Those Darlins to drop self-titled debut in July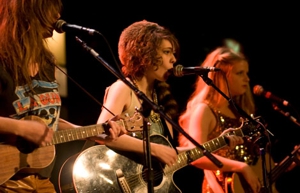 Cowboy boot-clad, guitar-wielding southern girl group, Those Darlins, have been making the rounds in the hype machine since they opened up for the Black Keys' Dan Auerbach a few weeks ago. It's not surprising. Take three girls from Tennessee who look better in cowboy boots and short shorts than Daisy Duke herself, then listen to them play their amped-up version of classic whiskey rock, and you've got yourself a certified candidate for the next "It" band.
Just in time to capitalize on their newfound
buzz-band
status, the girls announced they'll be releasing their self-titled debut album July 7 (June 23 for vinyl) via OH WOW DANG Records. Album details are sparse, but you can bet that there will be plenty of twangy three-part harmonies, sung with the reckless abandon their live shows have become known for.
Related links:
Others Tagged With