Titus Andronicus tours, gets iPhone app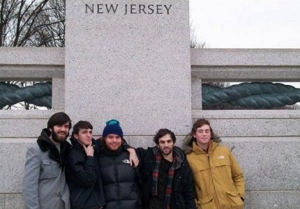 Imagine pre-London Calling Clash, Paul Westerberg's snotty, drunken vocals, a pinch of The Jam and subtle hints of Weezer and My Bloody Valentine. What do you get? One cool band, that's what! Specifically, Titus Andronicus. And, what's more, you're in luck: The five guys from Jersey are currently on tour to support the re-release/remastered edition of their 2008 debut, The Airing of Grievances. (We can only hope the next one is called The Feats of Strength.)

The 22-date tour continues until late-April.

Also, ever wonder what it was like to be a roadie? No? Ah well, you can give it a go anyways with the new Titus Andronicus iPhone application. Here, the player's goal is to load equipment into the band's small tour van. It's kind of like the Gameboy classic Tetris, we hear.

Related links:
Review: Titus Andronicus: The Airing of Grievances
List of the Day: Four 2008 Albums that Sound Even Better in 2009
Titus Andronicus on MySpace

Got a news tip for Paste? E-mail news@pastemagazine.com.

Others Tagged With