Sufjan Stevens' Illinoize features Outkast, Aesop Rock, more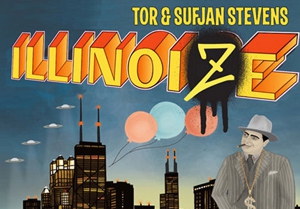 Montreal-based producer Tor is gunning for the King of Unlikely Samples title with his new, free mixtape, Illinoize, which mixes Sufjan Stevens with Outkast, Brother Ali, Aesop Rock and Big Daddy Kane, amongst others.
Turns out, the pairings complement each other nicely. The penny whistles from "Dumb I Sound" layered on Andre 3000's "Throw you hands in the ay-er and wave them like you just don't ca-are" textures "ATLiens" perfectly. And Brother Ali's smooth, quicker-than-lightning rhymes overlaid with the funky keys and bass lines of "They are Night Zombies" sound so natural, it's hard to imagine either track any other way.
Visit the official
I
llinoize
website to stream and download the entire mixtape.
Tracklist:
1. Star of Wonder/None Shall Pass (ft. Aesop Rock)
2. Dumb I Sound/ATLiens (ft. Outkast)
3. John Wayne Gacy Jr./Specialize (ft. Pete Rock & CL Smooth)
4. The Tallest Man/I Like It (ft. Grand Puba)
5. Kill/Any Type of Way (ft. Big Daddy Kane & DJ Premier)
6. Night Zombies/Talkin' My Shit (ft. Brother Ali)
7. The Dress Looks Nice On You/Make You Feel That Way (ft. Gift Of Gab)
Others Tagged With