Wale develops Attention: Deficit on album, tour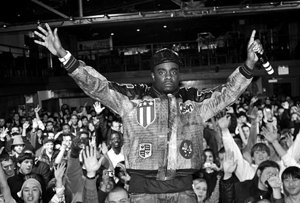 In this brave new world of rapid information dissemination via microblogging, a keen eye for detail can reveal some pretty interesting stuff. Take Seinfeld aficionado Wale, a D.C. rapper whose career has seen a meteoric rise over the last year. He recently posted a picture of some shoes to his TwitPic account, with a piece of paper saying "Attention: Deficit, Summer 09" on top.
Color us curious, so we just had to take a look at his Twitter/blog on Hypebeast. The prominent picture of a Nike Dunk seems to indicate a pattern (not to mention perhaps a reminder, if only in brand name, of his song, "Nike Boots"), a leitmotif of footwear that can only mean one thing: Wale has a new album coming. A quick glance at his MySpace confirms as much, with a tour to follow the release.

The album is called Attention: Deficit, and details are thin at this point, owing in no small part to the nature of the mediums we're receiving this information from. What we do know: as previously mentioned, members of TV on the Radio as well as Mark Ronson lend helping hands on the project. Also, "Chillin," a recently-premiered single, is almost certainly slated for the release.

The cities messr. Wale is touring in (with the U.C.B in tow, no less!) are evident, but the venue for most of these shows is still to-be-determined. Check back, as we'll keep you posted.

Dates:

March
25 - Miami, Fla. @ Winter Music Conference
26 - Miami, Fla. @ Winter Music Conference
27 - Atlanta, Ga. @ The Loft

April
1 - Syracuse, N.Y. @ Syracuse University
2 - Burlington, Vt. @ University of Vermont
3 - Brunswick, Maine @ Bowdoin College
4 - Portland, Maine @ TBA
8 - Winchester, Va. @ TBA
9 - Richmond, Va. @ TBA
10 - College, Pa. @ TBA
20 - Bloomington, Ind. @ Jake's (University of Indiana)
21 - Peoria, Ill. @ TBA
22 - Urbana, Ill. @ TBA
24 - Cleveland, Ohio @ TBA
25 - Canton, N.Y. @ TBA
26 - Toronto, Ont. @ TBA
28 - New Haven, Conn. @ TBA

May
1 - Sacramento, Calif. @ TBA
2 - Riverside, Calif. @ TBA
3 - San Francisco, Calif. @ TBA
4 - San Diego, Calif. @ TBA
5 - Scottsdale, Ariz. @ TBA
8 - Boston, Mass. @ TBA
12 - Norfolk, Va. @ TBA
16 - Northfield, Minn. @ Carlton College

Attention: Deficit drops this Summer on Interscope.

Related links:
News: Wale releases Seinfeld-themed mixtape? Get out!
List of the Day: Wale's 10 Reasons Why You Should Go See Wale Live
Wale on MySpace

Got a news tip for Paste? E-mail news@pastemagazine.com.

Others Tagged With