Two Woodstocks coming this year, one at Nazi stronghold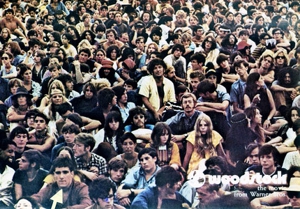 Update: Michael Lang told the Poughkeepsie Journal that all these Woodstock rumblings are merely unsubstantiated rumors. "We're exploring several options," he said. "But nothing is confirmed."

--

We all thought it was strange when Golden Globe-winner Joaquin Phoenix left Hollywood for hip-hop, but this little piece of news might be the king of music dichotomies. The Daily Swarm reports that Chief Woodstock promoter Michael Lang is planning two free Woodstock concerts, one at Berlin's now-closed Tempelhof Airport, a former Nazi stronghold.
Lang is hoping for a line-up including some of the Yasgur Farm originals like Joan Baez, Joe Cocker, The Grateful Dead and The Who. His cast will likely fit in better in the New York location (as yet undetermined) on Aug. 15 and 16, than in Berlin on Aug. 22 and 23.
Since Lang is holding the festival to honor the 40th anniversary of Woodstock's flower-power message, some fans feel the locale is inappropriate, at best. One such resister told the
Austrian Times
, "This airport was one of the Nazis' strongholds. There's not much peace and love to be found there."
Others Tagged With