Amanda Palmer asks via song to get dropped by record label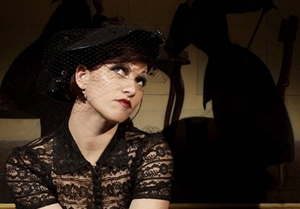 Clay Aiken, The Shins and Lady Sovereign have all waved a graceful goodbye to their labels in the recent past, but Amanda Palmer seems determined to cause a scene before she kicks Roadrunner Records to the curb. And this is your classic Blair Waldorf kind of scandal, malicious and brilliant, except instead of tweeting to her neighborhood Gossip Girl, Palmer is calling the label out onstage, in song.
Palmer (of Dresden Dolls fame)
went public
with her disdain for Roadrunner's umbrella label, Warner, when the company claimed YouTube owed them money and then pulled their videos off the online sharing site. At the end of 2008, she said, "Did I mention that being on a major label is starting to seem like...not such a grand idea?"
She was also embroiled in the "
Leeds United
" fiasco last year. Palmer was furious when Roadrunner asked to remove shots of her "unflattering" belly fat in the video, and the singer began her search for a new label in earnest. 
So she wrote a song, and performed it in Ft. Lauderdale on March 28. The melody belonged originally to "Moon River," but the lyrics are a creation that could only be dreamed up by an outraged punk queen. As a final zinger to Roadrunner, she added, "As soon as you get home, will you just put this up on YouTube?" Watch her tirade below (via
The Daily Swarm
):
Others Tagged With