Band of the Week: Black Joe Lewis & The Honeybears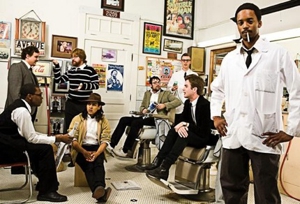 Hometown: Austin, Texas
Band Members: Black Joe Lewis (vocals, guitar), Zach Ernst (guitar), David McKnight (tenor sax), Eduardo Ramirez (baritone sax), Darren Sluyter (trumpet), Bill Stevenson (bass), Matt Strmiska (drums), Ian Varley (keyboard)
Album: Tell 'Em What Your Name Is
For Fans Of: James Brown, Skip James, Howlin' Wolf

When you watch Black Joe Lewis enthrall a crowd of hipsters with soul riffs hotter than Bo Diddley's kitchen stove, keep one thing in mind: the 27-year-old performer is still figuring out just what he's capable of. On Tell 'Em What Your Name Is, Lewis' first full-length album, (out March 17 via Lost Highway) the soul screamer and his Honeybears band combine an instantly familiar sound with a raw, modern potential and an uppercut-quick delivery (the album's ten tracks clock in at less than 35 minutes). But, Lewis says, "A lot of the times I find that when we go in to record, a couple months later, I'll be like, 'Damn, I wish we could go back and record again, because I'm a better musician now.'"
Lewis, who hails from just north of Austin, Texas, first picked up a guitar seven years ago, when he was 20 years old and working at a pawn shop. "I just ended up buying one one day, and then I just kind of learned on my own, and then would try to hang out with people that are playing," he recalls. "I did some really bad shows and I surprised people when I'd keep coming back."
In the years since, Lewis has learned a few things—for starters, that the right measure of irreverence and risk-taking can pay big dividends. In 2007, he fired his band right before opening a show for Little Richard; it was through that gig, at the University of Texas's Forty Acres Fest, that Lewis first connected with the musicians that now form The Honeybears. Together, the seven members developed the garage soul sound that has struck a sympathetic note across the Austin musical landscape: a stew of old funk, dirty delta-soaked blues and brassy soul, topped with stream-of-consciousness lyrics that teem with humor and profanity.
Lewis also firmly believes that going back to the roots of blues is the best way to bring the genre back to relevance. "I think right now, all the blues is just too cleaned up," he says. "People think of blues, and they think of like Stevie Ray Vaughan... everything's just guitar solos over and over. I mean that's cool, but not the whole fucking song." Instead, the new blues should inspire things like the surreal surreal at Austin's ultra-hip Beauty Bar in February: a largely indie-rock crowd, with a line out the door, listening in rapt attention to Lewis and The Honeybears dish out equal parts Lightnin' Hopkins and James Brown.
"I don't think that just because you play country or rap or something you should have to be at this bar or that," Lewis said. "If you really want to be successful, everybody's got to hear it and let them decide whether they like it or not. Get out and ignore the scene shit."
Listen to "Gunpowder" from Tell 'Em What Your Name Is:


Others Tagged With