Band of the Week: Stateless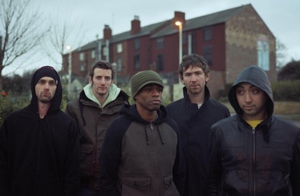 Hometown: Leeds, England
Band Members: Chris James (vocals, keyboards, guitars), Kidkanevil (turntables, sampling, programming), David Levin (drums), Justin Percival (bass, vocals), Rod Buchanan-Dunlop (effects, programming, keyboards)
Album: Stateless (2007), untitled sophomore album coming fall 2009
For Fans Of: DJ Shadow, Coldplay, Zero 7

Though there's no shortage of ambient, mood-conjuring bands emerging from England these days, few are quite as slicked-out or down-tempo as the mates of Stateless. With breakbeats, melodic keyboards and a falsetto that could make Chris Martin blush, the British five-piece infuses trip-hop rhythms with the powerful voice of lead singer Chris James, who frequently earns aural double-takes from those mistaking him for the Coldplay frontman.
"I've been singing all of my life," James explains, brushing away the comparison. "I never want to base my sound around any other vocalist and I certainly don't ever want to sound exactly like someone else." That goal was accomplished on Stateless' 2007 self-titled debut and further developed in its meticulous, entrancing live shows. The band's upcoming sophomore album, set for release in Oct. 2009, features contributions from The Balanescu String Quartet and producer-extraordinaire DJ Shadow, who pulled James in for a collaboration on his 2006 album
The Outsider
after a Stateless demo tape made it into his hands.
But perhaps the currently-untitled new album's most exciting track is James' vocal pairing with Shara Worden of My Brightest Diamond. "Shara is one of the best singers in the game right now and is certainly one of my favorite singers, period," James says. "I flew out to New York and turned up at her house in Brooklyn with only my laptop and a mic. We stayed up all night drinking wine and recording and we ended up nailing the piece. It was a thrill."
Though James and his bandmates (with the help of their front-of-house soundman, Rabbit) tracked and engineered the record themselves, production duties lie with veteran remixer Damien Taylor (Bjork, UNKLE, Frou Frou). "We asked him to contribute some electronic elements to the album," James says. "So it will be interesting to see the contrast that it brings to the live vibe we've captured." With an increasing sense of maturity and self-awareness, the band is embracing a new chapter in lyricism and songwriting fitting for a sophomore album, focusing less on "break-ups and such things" and more on "longing, searching, loving, life, death, magic, lust and forgiveness," James says. "We've also developed our relationships off the stage as well. This album was so much fun because it was like five best mates playing around in a studio."
And now, with the often-tricky second album is nearly out of the way, Stateless has some new goals its sights. "We would love it if we could get enough hype around this record to do a proper world tour," James says. "That would be a big dream come true."
Listen to "Prism #1" from Stateless:
Others Tagged With