Bowerbirds Fly Into Upper Air This July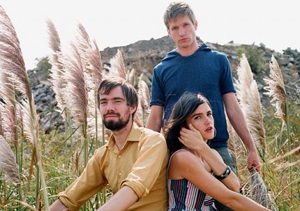 The Bowerbirds dreamt up their first album deep in the North Carolina woods, where guitarist/vocalist Phil Moore and multi-instramentalist Beth Tacular were building a cabin of reclaimed timber. But with fame they were forced out of their cottage and onto the national stage, and this summer they'll one-up themselves with an ambitious international tour. The best part of this news is that the European jaunt will be in support of a new LP, Upper Air, due for release July 7.
Armed with a full catalogue of instruments, a heavy slavic downbeat and multi-layered choruses of syncopated harmonies,
Upper Air
is a promising second album. The trio seems to be poking their heads out of a forest canopy, Frodo-style, and feeling the wind for the first time as the lyrics soar up beyond the trees and into the windy, rollicking atmosphere.
Tour dates:
April25
- Washington, D.C. @ Rock and Roll Hotel w/ Bell
26
- Philadelphia, Pa. @ First Unitarian Chapel w/ Bell (early show and late show)
27
- New York City, N.Y. @ Mercury Lounge w/ Lost in the Trees, La Strada, Bell
28
- Brooklyn, N.Y. @ Monkeytown - (Early) w/ Bell
28
- Brooklyn, N.Y. @ Monkeytown - (Late) w/ Bell
30
- Cambridge, Mass. @ TT The Bear's Place w/ Sarah RabDAU, Bell
May1
- Montreal, Quebec @ Il Motore w/ La Strada
2
- Toronto, Ontario @ The Drake Hotel w/ La Strada
4
- Chicago, Ill. @ Schubas w/ La Strada
5
- Bloomington, Ind. @ Bear's Place w/ La Strada
6
- Newport, Ky. @ The Southgate House - Parlour w/ La Strada
7
- Asheville, N.C. @ The Rocket Club w/ La Strada
8
- Chapel Hill, N.C. @ Local 506 w/ Wes Phillips, La Strada
22
- Groningen, Netherlands @ Vera
23
- Amsterdam, Netherlands @ Paradiso
24
- Brussels, Belgium @ Maison Des Musiques
25
- Paris, France @ Point Fmr
26
- London, United Kingdom @ Borderline
27
- Nantes, France @ Spoutnik
28
- Barcelona, Spain @ Primavera Festival
29
- Barcelona, Spain @ Primavera Festival
30
- Barcelona, Spain @ Primavera Festival
June1
- Carpi, Italy @ Mattatoia
2
- Pisa, Italy @ Caracol
3
- Basel, Switzerland @ Volkshaus
4
- Zurich, Switzerland @ El Lokal
5
- Ebensee, Austria @ Kino
6
- Vienna, Austria @ Arena
Others Tagged With