Cannes 2009 Lineup Set, Includes New Michel Gondry Film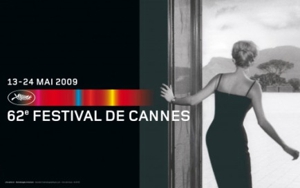 Cannes, the premier worldwide film festival, has finally announced the lineup for its 2009 event. Before we begin analyzing the choices, let's take a look at this year's selections:
Opener:
Up, U.S., Pete Docter, Bob Peterson (out of competition)
Closer:
Coco Chanel & Igor Stravinsky, France, Jan Kounen (out of competition)
In Competition:
Bright Star, Australia-U.K.-France, Jane Campion
Spring Fever, China-France, Lou Ye
Antichrist, Denmark-Sweden-France-Italy, Lars von Trier
Enter the Void, France, Gaspar Noé
Face, France-Taiwan-Netherlands-Belgium, Tsai Ming-liang
Les herbes folles, France-Italy, Alain Resnais
In the Beginning, France, Xavier Giannoli
A Prophet, France, Jacques Audiard
The White Ribbon, Germany-Austria-France, Michael Haneke
Vengeance, Hong Kong-France-U.S., Johnnie To
The Time That Remains, Israel-France-Belgium-Italy, Elia Suleiman
Vincere, Italy-France, Marco Bellocchio
Kinatay, Philippines, Brillante Mendoza
Thirst, South Korea-U.S., Park Chan-wook
Broken Embraces, Spain, Pedro Almodóvar
Map of the Sounds of Tokyo, Spain, Isabel Coixet
Fish Tank, U.K.-Netherlands, Andrea Arnold
Looking for Eric, U.K.-France-Belgium-Italy, Ken Loach
Inglourious Basterds, U.S., Quentin Tarantino
Taking Woodstock, U.S., Ang Lee
Other Out of Competition:
Agora, Alejandro Amenábar
The Imaginarium of Doctor Parnassus, Terry Gilliam
L'armée du crime, Robert Guédiguian
Un Certain Regard:
Mother, Bong Joon-Ho
Irene, Alain Cavalier
Precious, Lee Daniels
À Deriva, Heitor Dhalia
Kasi az gorbehaye irani khabar nadare (Nobody Knows About the Persian Cats), Bahman Ghobadi
Los Viajes del Viento, Ciro Guerra
Le Père de mes enfants, Mia Hansen-Løve
Amintiri din Epoca de Au, Hanno Höfer, Razvan Marculescu, Cristian Mungiu, Constantin Popescu, Loana Uricaru
Skazka pro temnotu, Nikolay Khomeriki
Kuki Ningyu, Hirokazu Kore-eda
Kynodontas, Yorgos Lanthimos
Tzar, Pavel Lungin
Independencia, Raya Martin
Politist, Adjectiv, Corneliu Porumboiu
Nang Mai, Pen-ek Ratanaruang
Morrer Como Homem, João Pedro Rodrigues
Eyes Wide Open, Haim Tabakman
Samson and Delilah, Warwick Thornton
The Silent Army, Jean Van de Velde
Midnight Screenings:
Panique au village, Stéphane Aubier, Vincent Patar
Drag Me to Hell, Sam Raimi
Ne te retourne pas, Marina de Van
Special Screenings:
My Neighbor, My Killer, Anne Aghion
Manila, Adolfo Alix, Jr., Raya Martin
Min Ye, Souleymane Cisse
L'épine dans le coeur, Michel Gondry
Petition, Zhao Liang
Kalat Hayam, Keren Yedaya
In hindsight, 2008's Cannes festival was a bit of a disappointment. That isn't to say it didn't have some very interesting films, but while it featured A Christmas Tale, Waltz with Bashir and The Class, these were more the exception than the rule. The festival will always feature some great films and by any other standard it had a good crop—but this is Cannes.
As if to rectify for this, 2009's selections are exceptionally promising. For one thing it seems aimed at name films directed by brand auteurs. Most obvious are Lars Von Trier's Antichrist and Michael Haneke's The White Ribbon, as well as Gaspar Noé's perhaps less well-known but equally controversial Enter the Void. It's hard to speculate on what they'll bring to the competition, but the festival isn't pulling any stops in featuring their over-the-top filmmaking styles.
Also in competition are films by some the older generation of directors. Alain Resnais in particular is interesting, given how infrequent his output is, but Almodóvar and Loach are also featuring films and both are favorites of the festival. Marco Bellocchio is also an interesting choice given the festival's turn towards younger Italian filmmakers of late, whereas Bellocchio has been directing since 1965. Vincere is in fact his sixth film in competition since 1980, though his works don't seem to have a huge following here in the States.
The common complaint, especially from the trades, following this announcement is that the festival features only two directors from the United States. It should also be noted that there's a larger than typical number of French selections, with eight features having at least some French involvement in the production. That being said, the two truly American productions are heavyweights, and both Tarantino and Lee certainly have the potential to win this competition. Park Chan-wook's (best known for Oldboy) Thirst and Johnnie To's Vengeance both have American financing, so there's a bit more representation than at first glance.
There's also the issue of the Out of Competition films, which seem just as worthwhile. It's interesting to postulate what the inclusion of The Imaginarium of Doctor Parnassus outside of competition means, but alongside it come Pixar's Up, Raimi's Drag Me to Hell, a new film by The Host's Bong Joon-Ho, and even a previously unannounced and somewhat mysterious new feature by Michel Gondry, which appears to be a documentary.
And that's just the somewhat-known entries. Moreso than any other festival, Cannes is always a place where discoveries of film styles previously unknown plays a huge part of the enjoyment. The festival will be held from May 13-24 with French actress Isabella Huppert presiding over the jury.
Related links:
News: Cannes announces 2008 lineup
News: Tarantino takes his Basterds to Cannes
Festival-Cannes.fr
Got news tips for Paste? E-mail news@pastemagazine.com.