Stephen Colbert denied space-station wing, given treadmill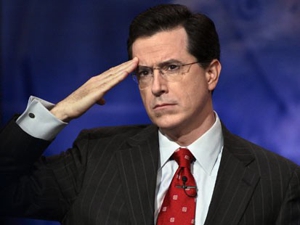 The votes were counted, a democratic decision made. In a landslide victory, Stephen Colbert wrangled more than 230,000 votes to have a third wing of the International Space Station named after him.
Or so we thought.
Tuesday, the news came down that NASA decided that they would, in fact,
not
be naming the node after our favorite patriotic comedian. Astronaut Sunita Williams appeared on Colbert's show to announce that NASA had "decided that the node three will be called the Tranquility and that was based off of..."
What, we're not sure. Williams was interrupted by a baffled Colbert who demanded to know why his victory was revoked. "Now wait a second," he replied. "I was assured that my name would be in space."
And as it turns out, it will be. En lieu of naming the node after him, NASA has created the Combined Operational Load Bearing External Resistance Treadmill, or COLBERT for short. The treadmill will take up residence in the third node this summer.
A very pleased Colbert had this to say about his new victory: "You know actually, I think the treadmill is better than a node, you know why? Because the node is just the box for the treadmill."
Related links:
Others Tagged With