David Lynch, Iggy Pop, Danger Mouse, Flaming Lips, many more collaborate on mysterious Dark Night of the Soul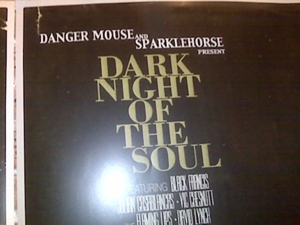 Sparklehorse has been ostensibly collaborating with Danger Mouse on an album for nearly three years now, though we've had no insight into what bizarre fruits might result from such a union. Until now. Via promo posters and mailings at this year's SXSW, we've caught the first glimpse of a project with more featured talent than a Lil Wayne mixtape: Danger Mouse and Sparklehorse Present: Dark Night of the Soul.
On deck for the project are (deep breath) the following folks: The Flaming Lips (as in, the whole band,) James Mercer of The Shins, The Strokes' Julian Casablancas, Iggy Pop, Suzanne Vega, Frank Black (as Black Francis,) Vic Chesnutt, The Cardigans' Nina Persson and Granddaddy's Jason Lytle.

Oh, and "visuals by David Lynch." Yeah, that David Lynch.

That's literally all anyone knows at the moment, as there's been nary a Tweet or MySpace bulletin on DNOTS since SXSW. Emblazoned at the bottom of the poster is a tantalizing "Album coming Summer 2009," though where Lynch fits in to the whole "visuals" thing remains to be (apparently, literally) seen.

Stay faithful through this long night of doubt, and stay tuned. This could be epic.

Related links:
Review: Sparklehorse - Dreamt for Light Years in the Belly of a Mountain
Feature: Opposites Attract
YouTube: Dune - David Lynch cameo

Got a news tip for Paste? E-mail news@pastemagazine.com.

Others Tagged With