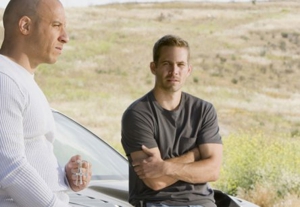 Release Date: April 3

Director: Justin Lin

Writer: Chris Morgan
Cinematographer: Amir Mokri

Starring: Paul Walker, Vin Diesel, Michelle Rodriguez, Jordana Brewster

Studio/Run Time: Universal, 106 mins.

Ah, the mysterious soul of the buddy-action movie
At times it's hard to comprehend the baffling idea that some new, unspoken trend in American culture created the "bromance" movie as it exists today. Somewhere in between decades of buddy-action movies and that part in
2 Fast 2 Furious
where Paul Walker and Tyrese roll around on top of each other in a cloud of dust, there would seem to be a long history of such movies, albeit ones that avoid uncomfortable questions with explosions rather than queasy jokes. If there was ever a doubt, the latest,
Fast & Furious
, supplies a helpful exchange: "Are you one of those guys who prefers cars to girls?" a nominal female love interest asks one of the heroes. "I appreciate a fine body," he replies, "no matter the make." Awkward! It's hard to know what that's supposed to mean, but it helps to observe that
Fast & Furious
, the fourth film in the car-racing franchise, plays like an overgrown parody of the first three movies combined. With the same writer-director team that brought us the third, the film reunites the original cast members (Walker, Vin Diesel, Michelle Rodriguez and Jordana Brewster) and sends them on yet another redemptive mission that involves a murder, interchangeable jargon about car engines and some of the least competent action sequences of the series. There's enough har-har dialogue and lingering shots of half-clothed extras to satiate an adolescent crowd, and perhaps even a sense of humor tucked in here somewhere. But there's also the inescapable impression the movie only half understands what it's actually about, and we're stuck in the back of the theater, amused but depressingly underwhelmed.
Watch the admittedly awesome trailer for Fast & Furious:


Others Tagged With