Fox looking to air recession reality show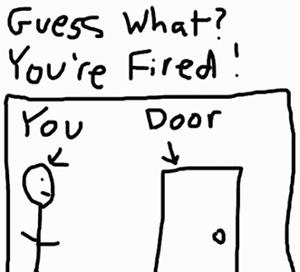 In a shameless effort to dredge up a new reality show concept from the depths of society, Fox is turning to that untapped gold mine of hilarity and hijinks: the recession. 
The Washington Post reported that Someone's Gotta Go, Fox's latest attempt to scrape the bottom of the barrel for material, will feature struggling small businesses going through layoffs. Employees, who will have access to each others' records (including salaries and evaluations), will vote on one colleague to walk the plank each week. Sounds totally hilarious, right? Pink slips! Unemployment! It's pure comic genius.
Fox's too-soon move is the work of Mike Darnell, head of reality TV at the network and mastermind of such bastions of intelligence as
Temptation Island
,
Who's Your Daddy?
and 
Big Brother.
 His next big project,
according to the Hollywood Reporter
, is called
More to Love—
basically, a dating show for fat people. "Why don't real women—the women who watch these shows, for the most part—have a chance to find love, too?" asks Darnell in defense of the show.
In an attempt to justify the bloodsucking nature of the show, Fox has said that a business consultant will host the show, doling out advice to the businesses (only after they send an employee packing each week). No word yet on an air date, but we're not holding our breath. After all, it's not like America needs a television show to see what it's like to be in a recession. 
Others Tagged With