Getting to Know... Alessi's Ark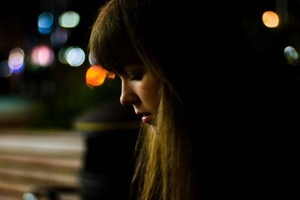 Somewhere in a bedroom in West London's Hammersmith neighborhood, you can find Alessi Laurent-Marke lost in her own imagination, with visions of creatures, starry nights and love swirling from her mind, onto paper and into song. On her upcoming debut, Notes from the Treehouse, the 18-year-old channels her childlike wonder into an album that plays like a collection of your favorite lullabies—albeit ones backed by a veritable who's who of indie rock.
After recording her
Bedroom Bound
EP in 2007, Laurent-Marke, who performs as Alessi's Ark, traveled overseas to the plains of Omaha, Neb., to record her debut album with Mike Mogis of Bright Eyes. The result is a charming breed of folk-pop heavy with whimsy, wit and breathy vocals. And while it's tempting to bundle her in with the growing ranks of young, British chanteuses like Adele and Laura Marling, you'd be wrong to do so: Where Adele nurses soulful songs of heartbreak and Marling her troubled psyche, Alessi's fantastical music seems largely untainted by the world around her.
Taking a break from preparing dinner with her mother, she recently spoke to
Paste
about her time spent in Omaha, the importance of breathing slowly and her upcoming album, which will be released May 4 in the U.K. and in the U.S. shortly thereafter.
Paste:
You took your exams at 16 to pursue your music career. How did you know this was the best decision for you?
Laurent-Marke:
That sounds a lot fancier than the way I put it. I'd been writing a fanzine called Brain Bulletin—it kept me company all through school. I also loved to play drums, and I was in school band playing drums all throughout school, which kept things exciting for me. But the zine was my very favorite thing to do. The two combined filled most of my spare time besides homework. Anyway, when you're 15 you have to choose what courses you want to do for your GCSE, which I believe is our equivalent to SATS, and I decided to to do music. I was a bit daunted by the idea because one of the parts of the course is that you have to do a composition. I had played my sister's guitar a little bit when I was about 14, but I was really just fiddling around. I don't think it was in tune for about a year. It was really the drums that I was a bit more established on. So part of the course was to come up with a song, a full-length song, and with the combination of the poetry and the stories that I had been writing for my fan zine and the simple guitar playing, I put together a song called "Glendora" for my music exam. My music teacher, he kind of pioneered it. He made me sing it in a school assembly. My parents saw how much I enjoyed it, and I said to them, "I don't like school very much, but do you think I could pursue these few things that I like doing, if I keep the songs a-flowing and play a few shows and keep the zine going, how does that sound?" They said, "We'll give you a year."
Paste:
Wow, that's really a radical idea to let your child quit school at such a young age.
Laurent-Marke:
Yes, but things sort of fell into place. I started playing anywhere. I put up a MySpace page and booked a few shows. I played pretty much for about a year, and then Heavenly and EMI found me playing... I sat on the deal for a bit. I mean, I was very honored and flattered, but I was scared. A big major label being interested and coming out of really nowhere it was like, "Where'd you come from, and how did you find me in these bars and clubs?" But they did, and they seemed like good folk, and I decided to go with [EMI] after sitting on the deal for quite a few months. I signed the day before I turned 17, so that kind of bookended that year with my folks.
Paste:
Were they skeptical at all when you proposed the idea of playing music?
Laurent-Marke:
No, I think they probably saw it coming. They just completely have my back, and they still do. I feel very lucky for it. They're just good people; I just can't say anything more than they just believed in the music from the beginning.
Paste:
Your upcoming album is called
Notes from the Treehouse
. Did you ever have a tree house while growing up?
Laurent-Marke:
No, no. It's really more an imaginary place in my head. But I'd love to have one. And if I ever have children, which I hope to, I'd love to provide a nice, big garden for them to knock around in.
Paste:
Yeah, it seems like a lot of your songs draw on nature and imaginary things.
Laurent-Marke:
Quite a few of the songs have come from imagery from the beginning. Drawing was one of my favorite things to do, and still is. Right now I've been reading about Atlantis and curiosities like that. But what I suppose I find most interesting is the studying of people and the way we treat each other. You can just pay attention. You don't really have to go to exotic places to find things to write about. I think that if you pick up on small details throughout your day and just breathe slower, you can see enough to write about.
Paste:
Since you've been signed to Virgin, has it been harder to find time to breathe slower?
Laurent-Marke:
I don't feel supremely busy. I think on paper it might sound a lot sort of fancier and faster. I get worried—anyone who knows me knows I'm a worrier. That's not news to folks. I do try to find time to just kind of pause and walk a bit. I think spending time with children really helps. When I was making the record, Mike [Mogis]'s daughter Stella was a massive inspiration.
Paste:
What were you expecting when you went to work with Mike Mogis?
Laurent-Marke:
You know, Mum and I really didn't know what to expect. I was really quite nervous, but awfully excited too. I just couldn't really believe it was happening that Mike liked the songs enough to kind of put this record together. It's an amazing kind of journey to write about music and then to work with one of the people I really admired. It was like a film or something.
Paste:
You're kind of a long-distance figure in the Omaha music scene. Since you've left, have you kept in touch with everyone?
Laurent-Marke:
Yes, I try to talk to Jake [of
Neva Dinova
] nearly every other day. On a regular basis, I deal with a bubble of guilt in my tummy because I really, really loved that time and that town, and I think of it every day. And then when I came back, it was really only my mum who understood how different things are here. It's difficult to find like-minded people, and before going, I didn't have all that many friends, and especially not people that I created with, so I felt spoiled and loved when I lived in Omaha. When I came back to London, it was like where is everybody at?
Paste: Notes from the Treehouse
seems to be a bit more produced and has a fuller sound than your
Bedroom Bound
EP. I remember listening to "Constellations" before you worked on it with Mogis. It was just this twinkling little acoustic song. And now it's so full now—it was almost jarring, the contrast.
Laurent-Marke:
I didn't want it to be necessarily fuller. I just wanted all these idea I had to at least be given a chance. And we ended up coming up with new ones together. Then some of these ones that I had come up with at home and had sort of tried to represent on demo, Mogis just understood them. We ended up keeping both his and my own ideas, so it did end up being a fuller-sounding record, but I do think that he was supremely sensitive and understanding to wanting to keep some songs sparse, or at least give them enough room to breathe and not be so full that they were almost in your face. I think he was able to capture, or I know he did, what I wanted in the songs. I've put together a band recently, but I do do some songs solo too. I just got back from SXSW, and I played some shows in California, and it's good for the brain to have a mixture of shows where, you know, you are playing the songs fuller and then you strip them down again. I think it's healthy to kind of give every song the opportunity to either be kind of rich sounding, you know, played with a band, or naked.
Paste:
With the
Bedroom Bound
EP, I remember getting it in this lovely floral sack with a handwritten note. Since you're being distributed on a much larger scale, have you had to forfeit intimacy with your audience at all?
Laurent-Marke:
Well, I still make the notes and the bags with my mum. So we've still got our hands on it all.
Paste:
Will it change once your album is released?
Laurent-Marke:
I hope not. I'd like to be as involved, and I plan on being as involved as long as, well, forever. I don't really want there to be a hand over of that kind of thing.
Paste:
So, what's next?
Laurent-Marke:
Since making a record, I've put together a split EP with an Omaha band called
Thunder Power
that's called
Friendships
. So that's one project I had going. I'm going to do a tour here in the U.K. in May. And I was just looking, actually, at the shows coming up, and I'm pretty much playing til September over here, so it's going to be kind of a long run of shows. And I'm doing some festivals here in the summer, the Glastonbury Festival, bits and pieces like that, which I'm excited about but also frightened of because I've never seen so many consecutive dates, really. At least not for me. I've seen Neva do it, and I was thinking this morning that I never thought that day would come for me.
Paste:
Well, I guess it has now. Is this exciting for you, or a bit daunting?
Laurent-Marke:
It's the two, if I'm completely honest. Sometimes it can be quite lonely making music, but at the same time you have to remind yourself, I'm doing ultimately what I want to do. It really doesn't get better than making music, I don't think.
Listen to "The Horse" by Alessi's Ark:
Others Tagged With