Getting to Know... Madeline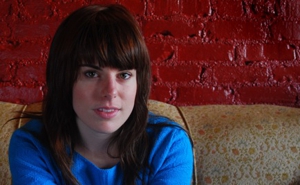 "I didn't know how long it took to take a picture," says 24-year-old singer/songwriter Madeline Adams of her recent first official photo shoot. "I just kinda thought, 'Oh, how funny. I'll just wear whatever they want to and it'll take a second.' But really, it ended up taking all day... Everyone involved was really sweet, but I don't think I'm going to try to be a model anytime soon."

That's just as well: Adams has plenty on her plate these days, from booking her own shows in promotion of
White Flag
(her third LP, out March 10 via Orange Twin) to her side-job bartending in her hometown of Athens, Ga. The new album weaves together Adams' haunting voice with recent classic country influences and lyrics that rarely quaver in resignation, employing a full band culled from her friends in Athens' vibrant scene.
Paste
snagged a few minutes on the phone with her to discuss the new music, what it was like being 15 years old in a Southern music mecca, and the parallels between songwriting and sex.
Paste:
How's the reception [of the new album] been thus far?
Adams:
The reception has been really positive. The first thing I did was go on tour. I think I was in Lafayette, La., on the official release date, and all of our shows were really great. People were really supportive. And so I hear from Orange Twin that everything is just real positive.
Paste:
What's the meaning of the album's title,
White Flag
?
Adams:
I think that I was just sort of done with being sad about quite a few things, and it was just sort of a peace symbol for me in giving up feeling sorry for myself.
Paste:
That's something a lot of people could probably learn from. So was it about letting go of things from your past?
Adams:
Yeah, most definitely. Yeah, working out a lot of guilt.
Paste:
What was the recording process for this album like?
Adams:
Well, it took about a year. Boy, what year is it now? 2009? [
Laughs
] I guess it was Summer of 2007 to 2008. But it was totally different. For my past recordings, I usually sit down with a producer, and I play my song, and then the producer and I accompany them on various instruments. But this time, I recorded it mostly with a full band, so the recording process was completely different. And it was fun. I would say it's more fun than I ever had recording.
Paste:
How did you get to know the people supporting you in your backing band? Have you known them a long time?
Adams:
I had been playing—with an exception to Claire and Page Campbell [of
Hope For Agoldensummer
], Matt Stoessel [of
Lake City
and
The Ginger Envelope
] and [
Elephant Six
's] John Fernandes and some friends who just came into the studio for a day or two—I had been playing with the
White Flag
band for about two years.
Paste:
What does your touring schedule in support of the album look like? I didn't notice many dates posted on your calendar yet.
Adams:
I know! I've been so lazy ever since I got back from tour. I've got to update that stuff. Let's see—in late April, I've got some Northeastern shows, beginning in Indiana and going up to New York. Then May 1, [I'm] flying out to France, playing for a little over a week in France, a little over a week in the U.K. And then, come July, I'm planning on touring in the Northeast. I'm looking to get a booking agent to help me out with that because I'm dog tired, but that's why I don't have any dates up on the site, because I book them myself. Northeast will be in July, and then August, I'm hoping to book some West Coast dates.
Paste:
Who is coming with you out on tour in the Spring and Summer?
Adams:
I'm hoping to play in August with
David Dondero
on the West Coast. In July, I'll be on tour in the Northeast with
The Ginger Envelope
. And I'm going to Europe with my good friends in
Defiance, Ohio
. This is actually our fifth tour together. I love them so much. I always try to travel with buddies.
Paste:
Where have some of your favorite venues been on past tours?
Adams:
I think my favorite club ever is the
Blue Moon Saloon
in Lafayette, La. It's a really cool Cajun club—and the
Dragon's Den
in New Orleans. Those are probably the two that impressed me the most. I hope to come back probably this time next year.
Paste:
What are they like on the inside?
Adams:
Well, the Dragon's Den is kind of lit by just one red light bulb, and the band plays in the middle of the room, in a wrestling-ring kind of thing made of wood. And it's very small and intimate. And the Blue Moon Saloon is so charming. It's like a club out of a movie. You would think it would be in
Dirty Dancing
or something. It's too cool. It's real old and wood and charming in a Louisiana kind of way.
Paste:
What's the best environment for you for songwriting?
Adams:
It's so strange right now because when I was younger, writing songs never seemed all that precious. Now that I kind of recognize when a song is good or bad or when a real winner's coming, it's almost like an orgasm: If you think about it too much, it just goes away. I think it happens most often when I'm either on a walk or bored and driving, I'll sing to myself. I tour solo a lot, so I'm alone in the car for, like, eight hours.
Paste:
I read that you started your musical career when you were 15. How did you end up where you are now?
Adams:
It was a pretty wild ride. You know, Athens is very encouraging for music, especially the way the downtown was when I was 15. It's changed quite a bit. It was a real happening scene downtown, and I could see how cool everybody was. And, being 15, I wanted to be cool, so I started playing music. I went on my first tour about two years later when I was 17, and I really didn't stop after that. I was a punk rocker, opening for anybody I could, playing in living rooms and under bridges, anywhere I could. I did that for years, recorded a few albums along the way, and I'm doing the same thing now.
Paste:
Since you started working on music at such a young age, how did you balance that aspect of your life with other things, like school?
Adams:
School's always been real difficult. I guess I'm a seventh-year sophomore. I still go off and on. I don't balance things as well as I'd like to, but it's real hard. Music is a full-time job, but you just don't get paid for it all the time. With that said, I've tried to quit before. You can't, really, if you love it. I'm looking at almost 10 years, and I'm sure I'll be doing it for another 10.
Listen to "Jive Talking" from White Flag:


Others Tagged With