Smithsonian's Pete Seeger Box Set Out Today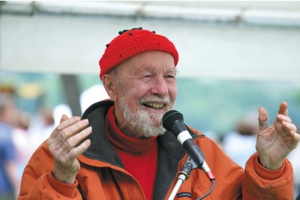 It's been 73 years since Pete Seeger first picked up a five-string banjo, but that doesn't mean the soon-to-be-nonagenarian is out of the picture. Today, Smithsonian Folkways Recordings released a box set chock-full of the folk legend's best work. Five volumes of it, to be exact. Maybe the folk legend's been kickin' it with Pixies?

Although Seeger's music career spans decades, American Favorite Ballads will only cover his 1957-1962 recordings, when he worked with Moses Asch of Folkway Records to write the cornerstone songs of folk music. Classics like "Swing Low, Sweet Chariot," "I've Been Working on the Railroad," Woody Guthrie's "Hard Travelin'," and Lead Belly's "House of the Rising Sun" are just a few of the Seeger-penned songs packed into the five-volume, 130-track set.
Seeger, whose songwriting propelled the careers of artists like The Byrds and launched "We Shall Overcome" into the epicenter of the American Civil Rights movement, will celebrate his
90th birthday
in a few weeks, just shortly after this career-celebrating box-set is released. Check out
Smithsonian Folkways
for more details.
Others Tagged With