Manchester Orchestra producing 11-part concept video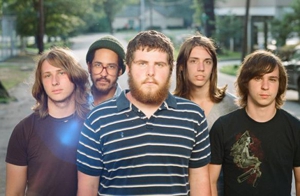 Although they first caught our eye long ago, Manchester Orchestra have been gathering national steam ever since releasing their debut full-length album, I'm Like A Virgin Losing a Child. Since then, the Atlanta-native indie rock outfit has quickly grown in popularity (you know you've arrived when Rainn Wilson gives you a Twitter shout-out). After staying busy in 2008, the band has recently finished up its sophomore album, Mean Everything to Nothing, and is now working on an 11-part concept video corresponding to each track on the new record.
The idea was conceived by
Destroy Rock Music
, the Emmy-winning directing team of Clay Lipsky and Jason Bognacki, who also directed the video for one of the band's first singles, "
I Can Barely Breathe
." Lipsky
says
that the team's vision for the video series was "to create a cinematic collage of decaying film and lost memories." The narrative, says Lipsky, centers around a young woman on a journey "to find what she is missing."
Rather than simply creating a music video for each track on the album, Manchester Orchestra say they seek to peel back the many layers of the album with each additional video. The first two videos for the series, "The Only One" and "Shake It Out," have already premiered online to an eager audience: The exclusive premiere of the first video on
AbsolutePunk.net
garnered over 21,000 views.
Eerily nostalgic, the videos seem to capture Destroy Rock Music's aesthetic goals. "The grainy, dusty nature behind the look of the individual clips allows them to demonstrate a very unique way of storytelling," Lipsky said in a recent statement. "The grunge and grit of aging films is both aesthetically beautiful, but also compelling as a window into generations of lost memories."
Manchester Orchestra will be showcasing the latest installments one-by-one, leading up to the April 21 release of
Mean Everything to Nothing
. The video for "I've Got Friends," the single from the new album, will be the next to premiere. While no details on the when/where of that video have emerged, the track itself can be heard on
Manchester Orchestra's Myspace page
.
Watch the video for "The Only One":

Watch "Shake It Out" here.

Others Tagged With