Movieline magazine reboots, relaunches online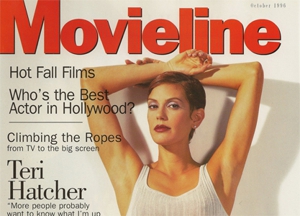 Take a trip through time with us, way, way back to the year 1989. That year, a slick little rag called Movieline started in L.A. and quickly blew up into the film journal of choice for the discerning cynic/critic. The cult popularity the magazine engendered for its caustic writing made it the gold standard of Holywood journalism for the next 12 years.

The magazine folded nearly a decade ago in 2001, but it was recently reborn in an online format under the stewardship of Gawker writers Seth Abramovitch, Kyle Buchannan, Matt McCluskey and Julie Miller.

The resurrected Movieline promises a mixture of high-minded film news and good old-fashioned gossip. In the first post, Abramovitch promised to bring back fan favorite sections from the old format and put the magazine's back issues on the internet (!) for free (!!). Best of luck with the format change, Movieline; we're glad you're back.

Related links:
MovieLine.com
Movieline: The 100 best movies ever made
Back issues of Movieline on Amazon

Got a news tip for Paste? E-mail news@pastemagazine.com.

Others Tagged With