Phosphorescent Meets Willie Nelson, Will Perform on His Sirius XM Radio Channel Tonight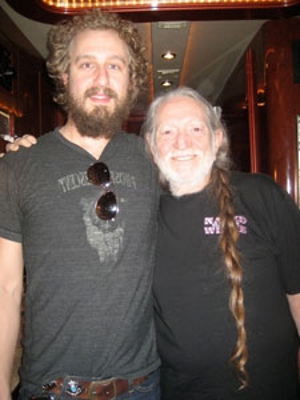 After showing his appreciation for music legend Willie Nelson by releasing To Willie and touring during the Spring in support of the covers album, it seems like all of his hard work has paid off and Phosphorescent frontman Matthew Houck has finally met his musical hero.
Nelson personally invited the band to his show in New Brunswick, N.J. and upon arrival, they were invited to his tour bus to meet Nelson, who had nothing but praises for the tribute album. Their meeting has been documented on both Phosphorescent's MySpace and through Nelson's official site.

And for his 76th Birthday, Nelson has invited Houck and the gang to pay an hour-long tribute in his Sirius XM channel "Willie's Place" (Sirius Radio channel 64, XM 13) tonight at 9 p.m. EST. Phosphorescent will not only play some tunes, but they will also share anecdotes about Willie's music, recording the album, and the impact his music has had in their lives.

While you gear up for the performance tonight, check out Houck's performance on Seattle's KEXP 90.3 Morning Show here.


Others Tagged With