Salute Your Shorts: The Music Videos of Michel Gondry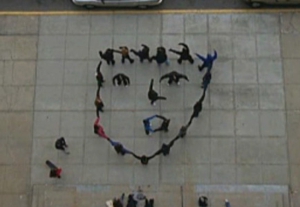 Salute Your Shorts is a weekly column that looks at short films, music videos, commercials or any other short form visual media that generally gets ignored.

In its short history as a quasi-medium, music videos have produced a fair amount of directors-to-watch, from Anton Corbijn to David Fincher, but rarely has it been a place for artists to grow into maturity. For the most part, when a video director has moved onto bigger (not necessarily better) new things the videos point to their later interests but don't really follow them. This is only natural, considering that you can't tell what kind of storyteller someone will be from a quick-editing piece meant to be digested in a dialogue-less, three-minute chunk with Aerosmith screaming in the background. It is still kind of annoying, though.
The exceptions that make the rule difficult to deny are the music videos by Spike Jonze, Michel Gondry and, to maybe a lesser extent, Nathanial Hörnblowér, i.e. Adam Yauch.
While this was known for years to the few music video aficionados who actually paid attention to who directed what during the late 90s (directors were rarely credited before then), when Jonze, Gondry and Chris Cunningham released their
Directors Label
series in 2003 it became abundantly obvious that these videos didn't reflect the bands' visions so much as the directors' own. It was an argument for videos to be regarded as artistically valid as short films.
Directors Label came out with four more releases in 2005 before quietly dying, but the lasting effect of these releases has been some well-deserved reconsideration of what music videos can be.
Almost all of these collections felt like singular visions, but put within this context Jonze's and Gondry's offerings blew the others out of the water.
On the one hand you had Jonze, the postmodern prankster who ripped apart the conception of what videos could be while simultaneously creating new tropes that have been copied ever since.
Strangely more nebulous, though, were Gondry's videos, which both showed the truth of his reputation for lo-fi aesthetics and handmade mise-en-scene, but also featured a fascinating love for computer animation and technology.
After all, though he builds props out of unpainted cardboard, he's still the person who pioneered the technology behind Bullettime.
With the Directors Label apparently gone for good, Gondry has released a second collection of his videos on DVD, which offers a fuller picture of what he's been up to.
Perhaps the most obvious expression of the stereotype of Gondry's music videos, and films in general, is his 2004 effort for Steriogram's "Walkie Talkie Man."
Stop-motion and oversized props heavily abound, with the stop-motion oddly reminiscent of his earliest videos from Oui Oui back in the 80s.
Though it's pretty neat, at this point the video isn't much of a surprise and becomes a letdown not for its lack of craft or vision but because we've basically seen it before.
The compilation goes much deeper though, even if this is the vision of Gondry that will always remain his public image.

Michel Gondry 2: More Videos Before & After DVD 1
is admittedly weaker than its first volume. This is due in part to Gondry's repetition of his own ideas, such as his video for Paul McCartney's "
Dance Tonight
" which seems like a retread of "
Dead Leaves and the Dirty Ground
," and also because he seems more committed to offering a full version of what's out there than in editing out misfires like Sheryl Crow's "
A Change Would Do You Good
." It's possible he's just not a great critic of his own work, but because the videos are so short its still interesting to check out the experiments that didn't quite come together.
Others Tagged With