Stevie Nicks wants to collaborate with Timbaland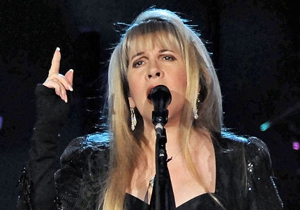 Chris Cornell was just a simple ex-grunge god. Sure, he was trying to recreate his reverb-drenched glory days with Tom Morello in the form of Audioslave, but we forgave him that. Then, out of the blue, he was straddling a chair in the back of some club, crooning, "No, that bitch ain't a part of me," with appropriate lounge-sleaze, as a host of blondies shimmied their child bearing hips behind him. This wasn't a Seattle purist's nightmare, it was a video called "Part of Me," which accompanies his new Timbaland-produced album,
Scream.
And it turns out, Cornell's genre-skipping has made a few artists lust after the "super producer's" polished beats, among them Fleetwood Mac maven Stevie Nicks. In an interview last week, she told
MTV
, "Oh, I would love to (work with Timbaland)!" Though she added that she had no idea what their album would sound like, she said, "I learned to sing to R&B artists, not rock and roll or country artists. That was my first love, strangely enough."
Timbaland
has put his stamp on artists including Jay-Z and Nelly Furtado, and with such a wide roster, it's not too surprising that Cornell (and possibly Nicks) have the joined the ranks. We were even ready to believe he would lend a hand to Trent Reznor's new creation,
Strobe Light
, but alas, the album with tracks like "Pussygrinder" (featuring Sheryl Crow) and "Clap Trap Crack Slap" was a cruel April Fool's Day joke engineered by the NIN frontman. 
Others Tagged With