The Decemberists: Dorks of Hazard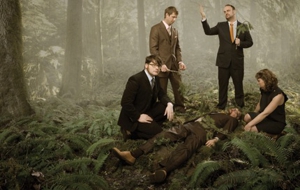 Page 1 of 2
Drowning is the second leading cause of death among subjects of Decemberists songs. Throughout the band's catalog, six unsuspecting literary pawns—including three on the band's new album, The Hazards of Love—have struggled, gurgled and sunk to their demise. There have been others—upwards of 70 characters that lead singer and songwriter Colin Meloy has created just to destroy, poison, shoot or lodge inside a flue (plus thousands of dead soldiers, sailors and nameless ghosts mentioned in passing). In his deadliest lyrical swoop to date, Meloy served a platter of 16 military wives and 15 celebrity minds to 14 cannibal kings. But it's the drownings he loves best. "I think it's just a classic way to die," he says. "It doesn't involve any kind of new-fangled technology. You could always die from drowning."
A dark, peculiar whimsy has always driven Meloy and his band, and strangest of all is how their off-kilter baroque pop didn't just survive, but flourished, in the transition four years ago from Seattle imprint Kill Rock Stars to a major label. On The Decemberists' 2006 Capitol Records debut,
The Crane Wife
, Meloy's bleating tenor mellowed, his bookish lyrics sharpened focus and shouldered new emotional heft, and the band—organist Jenny Conlee, guitarist Chris Funk, bassist Nate Query and new drummer John Moen—averted what could've been a gully of ramshackle klezmer-twee for more studied orchestration and instrumental depth. Partly inspired by an ancient Japanese folk tale, the album scanned more than 290,00 copies (nearly 100,000 more than 
2005's
Picaresque
, then their best-seller to date) and landed atop scores of year-end lists—including
Paste
's.
Hazards
, The Decemberists' Capitol follow-up, is both the most daring and logical leap of the band's career. It's an hour-long romp through traditional British folk motifs—ill-fated lovers, shape-shifters, infanticide—buoyed by sludged-out guitars, leering synths and an arsenal of talented guest stars, all pressed, as always, through the bizarre sieve of Meloy's mind.
"It's still a very marginalized kind of music, but it's on two different sides of the spectrum," he says of the album's odd meld of folk and metal. "It's intended to be pretty kinda nerdy. But sometimes nerds make the best hard rock."
Meloy may be cruel to his characters, but in real life he's a nice guy. My first afternoon in the band's hometown of Portland, Ore., as I'm checking into the Ace Hotel, I see him having coffee with Ben Gibbard and Zooey Deschanel in the lobby outpost of Stumptown, his favorite local coffee shop. I don't say hello, but when I meet him the next day at the photo shoot for this story, he tells me I should have. He's genial, quick to grin, harboring hardly a trace of the fragile, tweedy ego many have inferred from his cerebral songs. Still, this is the man who once rhymed "legionnaire" with "Frigidaire," who once worked the words "Sycorax," "Patagon" and "parallax" into not just the same song, but the same breath. Behind his green-framed glasses, you can practically hear the strange cogs of his brain grinding and whirring.
Jokes about Portland as an Indie Rock Epcot aren't new, but the city feels more like Bizarro Mayberry. Improbably, on the morning of the photo shoot, Funk happens to be riding my bus. I introduce myself as we step out onto the curb, and we chat and walk; I mention seeing Meloy at the Ace yesterday and Funk tells me that his wife books events for the hotel. We arrive at our destination—the squat industrial block housing Newspace Studio—20 minutes early.
"We're always prompt," Query tells me later, a little sheepishly.
"Yeah," Conlee agrees. "We're stupidly prompt."
"
Uncooly
prompt," Meloy says.
Meloy is often portrayed as the figurehead among a blotch of faceless players, but this is a band; they glom together, machinate, tick. They expound, collectively, on relatively minor conversational points, and someone is almost always on the verge of a giggle. Today, they arrive in unfancy cars, already dressed to varying degrees in their own formal attire, which they were asked to bring for the shoot. Moen comes in wearing a full suit. He tells me later that he likes dressing up, as the band does for most of its live shows, but that it's tough to drum in a suit coat; as the others get dressed, he and I devise a prototype drumming jacket to be fitted with elastic bands across the back and around the armholes, allowing for a full range of motion and maximum dapperness. Query suggests that we include some stretch in the elbow-area, for bassists. Moen, already sure that he'll make his fortune in some way unrelated to recorded music, exclaims, "Maybe this is it!"
Meloy is dropped off by his wife, Carson Ellis, who has illustrated all of the band's albums and much of its merchandise. Before she heads off in their camper-top pickup, we sit in the loft above the studio and she shows me the final version of
Hazards
' vinyl packaging. Her monochrome pencil drawing of twisted twigs and limbs spelling out the album title lays against an inky-black field, a recent development; Meloy originally favored a white background, but changed his mind once he saw the final cover posted on some blogs—he thought it should be darker. It was an uncharacteristic bout of waffling; usually, Ellis says, he's quite sure of what he likes: "Colin has such an acutely visual mind. He knows exactly what he wants in a record—he can visualize it perfectly—and I think in me he found a willing conduit." Ellis sang with Meloy on his 2006
Sings Shirley Collins
solo EP, and has drummed with Funk's Flash Hawk Parlor Ensemble side project, but aside from one recurring doodle of a Morrissey-esque figure with a guitar and a pompadour, Meloy can't draw a lick. When things get tense around the house—when, say, it's 2 a.m. and he's giving an unprompted, over-the-shoulder critique of Ellis' latest sketch—she threatens him: "Maybe you should draw your own record cover—you could draw
that
little guy."
He's always deferred, so Ellis' delicate depictions of ruddy miscreants and dignified animals have become the de facto visual representation of the band's lyrical world. The music inspires her, she says—indeed, much of her other work (mostly kids' books lately) has the same playfully ominous feel as a Decemberists' tune—though "The Rake's Song," off the new album, gave her major pause. The first time Meloy played her the song, in which a father unrepentantly offs his three young children, she felt sick to her stomach. It's the only time she's been disgusted with something he's written; she laughs about it now, albeit nervously. "It's one of the songs he's played at shows, and I'll be standing around with friends and the audience, and he sings that line and, maybe it's just my imagination, but I feel like people look at me like, 'You have a
child
with him!'" (Meloy and Ellis' son, Hank, is three years old. "He hasn't been shielded from any of it," Ellis says, but these days he's mostly uninterested in anything except the solar system, especially Olympus Mons, a 340-mile wide Martian volcano.)
Downstairs, stylists primp and prod, swap out neckties and scrutinize Conlee's outfit with and without a cape. At one point, Lisa Molinaro, who played on the first
Crane Wife
tour, pops in to say hi; she was walking her dog in the neighborhood and happened to see Conlee standing outside. Lunchtime nears and, in between individual portraits, the conversation turns toward the glories of meat—the lengua burger at Clyde Common, the restaurant across the Ace lobby from Stumptown, which Meloy also adores; the pork belly sandwich at Bunk, which Query and Funk describe in ecstatic facial expressions and guttural noises.
For the group shots, everyone gathers amidst an expanse of pine boughs and forest debris hauled in and arranged on the floor by the photographer and his assistants, who've been showing off their splinter-riddled fingers all morning. In the way of posing, Meloy tends to lean forward slightly and eye the camera like he's sizing it up for a duel. Burly Funk appears to be hamming, but isn't; his sharply arched eyebrows give the impression of a near-perpetual dubious glare, belying his affable demeanor—even on the bus this morning, in an army coat and rumpled Red Fang T-shirt, he was shooting his newspaper the same look. At the photographer's suggestion, Moen sprawls on the ground, his bandmates clustered dutifully by his side. Between shutter clicks, PAs scurry about, adjusting foliage; the band cracks nervous jokes, fashioning mossy twigs into mustaches.
"When do we get nakey?" Funk asks.
"That's always your idea!" Moen says.
"You look like rock stars!" a stylist hollers from the back.
"Do we?" Conlee asks, unsure, tottering on a slab of bark. Everyone laughs.
Others Tagged With