Pixies Announce Minotaur Box-Set Collection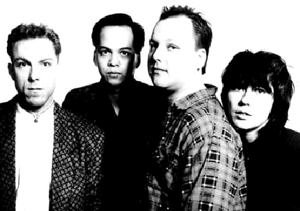 Those loud-quiet-loud pre-Nirvana masters of UFO and incest lyrics are giving their fans a little memory boost and re-releasing their first five albums under that holiest of holy titles, "Collector's Edition." More specifically, they're calling the box set Minotaur.
The release will arrive in two different forms, a deluxe edition and a limited edition, dividing buyers into two tiers of rabid fanboy-dom. The collections will be
available
for pre-order June 15 at the prices of $175 and $450, respectively. Curiously, no release date seems to be set just yet.
The radical difference in cost is largely due to vinyl and packaging. Both sets will include
Come On Pilgrim
,
Surfer Rosa
,
Doolittle
,
Bossanova
and
Trompe le Monde 
on 24k layered CD and Blu-ray with artwork by Vaughan Oliver, a DVD of the Pixies' '91 performance at the Brixton Academy in London, music videos, live tracks and a 54-page book. But the limited edition will sport all the albums on 180 gram vinyl as well, along with a giclee print of Oliver's work, a 72-page hardcover book and a custom clamshell cover. Compilation guru Jeff Anderson of Artists in Residence, who has anthologized Nine Inch Nails, Beck and Sigur Ros, is at the creative helm of the Pixies' box set. 
For a sneak peak of the project, watch this
Minotaur
preview:
Others Tagged With