We Are Hunted Charts Top Internet Tracks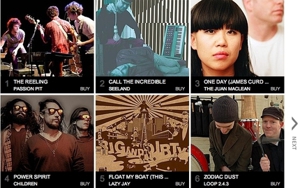 Have you checked the charts lately? Rascal Flatts! Hannah Montana! The Twilight sountrack?!? It's kind of hard to believe that this is really what everyone is listening to. But there's finally a music chart we can get behind.
Wired
reported
last week on a new kind of music chart that aggregates the Internet's 99 most buzz-worthy songs and organizes them in a visually-pleasing, easily-searched format.
We Are Hunted
is a collaboration between Wotnews and Native Digital that tracks blogs, social networks, Twitter, forum and P2P networks to find the top songs online, measuring not only for coolness but also sentiment, expression and advocacy.
The songs are ranked in order and are fully streamable, and the charts are organized by day, week and month. (Right now, it looks like
Emancipator's Sigur Ros/Mobb Deep mashup
is holding tight to today's No. 1 spot, just edging out a weirdly-bootyshakin' Frank Sinatra dance remix.) Add to that clickable links that take you to an artist page full of related links and articles, and you've got yourself a new site on the bookmarks list.
Others Tagged With