Judd Apatow Launches Funny People Viral Marketing Campaign with Fake Jason Schwartzman Sitcom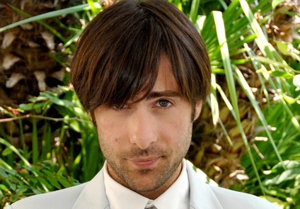 Watching the clips online makes you think twice: Is this for real? Perhaps it's because the new, Jason Schwartzman-starring (but very fake) sitcom Yo, Teach! pulls heavily from a mixture of Saved By The Bell, Boy Meets World, and Dangerous Minds in the teacher-tries-to-get-through-to-struggling-kids motif, and the gags therein. Ah, but we cry foul, Judd Apatow! Apparently the comedy director launched these clips with the folks at NBC.com as if it were a real show, when in fact they serve as a viral-marketing tool for his highly anticipated summer comedy, Funny People.
Here's the deal:
Yo Teach!
is meant to be a sitcom starring the character Schwartzman plays in
Funny People
, the appropriately three-named character, Mark Taylor Jackson. And even though you can't look forward to the fake premiere of a fake second season, as advertised on the show's ultra legit-looking
website
, you can at least watch these hilarious promotional snippets.
What might top the episode preview, in which Mr. Bradford (a.k.a. "Teach"), asserts that "the O.G. Big Willie," William Shakespeare, is the greatest rapper of all time, is the EPK satire. Set to some sweet musak, a shades-wearing Mark Taylor Jackson speaks self-importantly to the camera about his character: "I teach at a school to a classroom of teenagers who society has kind of left behind...that society feels are unteachable, and have been forgotten." Watch and LOL, y'all:
"MC Shakespeare":
Funny People
, starring Adam Sandler, Seth Rogen, Leslie Mann, Jason Schwartzman,
The RZA
and Jonah Hill hits theaters July 31.