Band of the Week: Bloodkin
Lazarus, Dig Yourself: The Epic, Untold Story of Bloodkin (or: Why You've Never Heard of One of the Greatest Rock 'n' Roll Bands of the Last Two Decades… Until Now)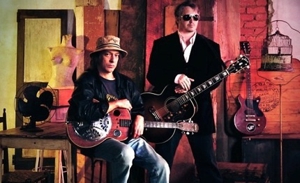 Page 1 of 2
Hometown: Athens, Ga.
Band Members: Danny Hutchens (vocals, guitar), Eric Carter (guitar, vocals), Eric Martinez (guitar), David Nickel (bass), Aaron Phillips (drums), William Tonks (dobro)
Album: Baby, They Told Us We Would Rise Again
For Fans Of: Rolling Stones, Black Crowes, Drive-By Truckers, Carson McCullers

It's a scorching summer afternoon in Athens, Ga., the last day of Athfest 2003, and a few hundred people wait in the middle of Washington Street for the next act to take the hastily assembled outdoor stage. Finally, about 20 minutes late, local shoulda-beens Bloodkin slither onstage, ghostly pale, disheveled and sweat-soaked, hiding behind mirrored aviator shades. Frontman Danny Hutchens is dressed head-to-toe in black, his long, brown hair starting to gray from years of diving headfirst into places deeper and darker than most civilians could dream. But even more frightening is the sight of Hutchens' best friend and lifelong musical partner-in-crime, the Keith to his Mick, guitarist Eric Carter. The nice way to say it would be to quote Kris Kristofferson's classic-country tune "To Beat the Devil": Carter looked like he "was about a step away from dying." Really, though, he looked more like someone who'd overdosed, been buried a few days, then dug up and had a Les Paul Jr. shoved into his bony hands.

I can't remember what Hutchens' exact words were when he first stepped to the mic that day, but it was something like, "Sorry, we don't really see the sun much anymore," or "It's been a long time since we've been up this early." I looked at my watch—it was almost 5 o'clock.
Around the band hung an air of sadness, of missed opportunity, of brilliance and talent pissed away like a Saturday-night PBR. Still, when they started to play, they showed a ramshackle charm, not to mention a sleeve full of both sacred and profane would-be rock classics. But it was painfully obvious: Bloodkin, whose future had seemed so bright for a moment in the mid '90s, had almost undeniably reached personal and professional oblivion.
"We weren't taking good care of ourselves," Carter says of those foggy, booze-and-cocaine-twisted days.
"Or anyone around us," adds Hutchens. It was just "selfish, self-destructive behavior."
In 1994, after Bloodkin released its first album,
Good Luck Charm
, friends and fellow Athens musicians Widespread Panic (who count Bloodkin as a key influence) covered Hutchens and Carter's song "Can't Get High" on their
Ain't Life Grand
album. It became a minor radio hit, ending up on
Billboard
's Mainstream Rock Tracks chart. When the more jammy Panic started to blow up—touring constantly, and exponentially growing its fan base—it seemed logical that Bloodkin would be next. A half-dozen of the band's songs were in regular rotation at Panic shows that drew thousands of fans every night, and Bloodkin's own versions were even more concise and radio-friendly. Like so many born underdogs, though, Bloodkin had a knack for blowing it at all the most crucial moments, giving even the Bob Stinson-era Replacements a wicked run for their money as good-old-fashioned, class-A fuck-ups. "Like most artists," writes friend, admirer and Drive-By Truckers frontman Patterson Hood in the liner notes of Bloodkin's new album,
Baby, They Told Us We Would Rise Again
, "they can and have been their own worst enemy."
"I remember around '99 having some meetings with entertainment-lawyer types in Atlanta with our manager Zac [Weil]," Hutchens recalls. "He'd set these things up, and some of the people we were talking to were pretty big wheels in the biz—and at every meeting, Zac and I were both so hung over that, at least speaking for myself, I had no idea what was being talked about. I just sat there in the offices and sweated and couldn't wait to get out, go home, play guitar and get drunk."
Once, a Grammy-winning producer who'd liked Bloodkin's first few records came to see the band play at the Exit/In in Nashville. After the first song, Carter inexplicably sat down on stage and proceeded to tune his guitar out loud for seven minutes. Finally, says Hutchens, "the big-shot producer left. At which point, Eric jumped back up and kicked into the intro to the next song. After our set, a guy who worked at the club told Eric, 'Man, you're either some kind of punk-rock hero or the biggest asshole I ever met.' And Eric said, 'Probably a little of both.'"
Bloodkin's problem was never the music; that was always there. What would become their Achilles' heel—in addition to some unlucky breaks (their label going bankrupt after they released live album
All Dolled Up
in 2000) and their excessive disregard for the business side of the equation—began as casual drinking and drug experimentation. Over the decades, though, while they were alternately on the road or scraping by working side jobs in Athens (Carter worked for years checking IDs at the Georgia Bar, and Hutchens put in time as a cook at Harry Bissett's New Orleans Café & Oyster Bar and as a phone-service rep at DialAmerica), what was once casual became a lifestyle. But what really sent Hutchens and Carter over the edge was the death of their close friend and manager, Weil, in April 2000, during the sessions for what became the band's
Community Gospel Rehab
album. Just a few months later, another friend, Gov't Mule bassist Allen Woody, also passed away.
Instead of taking these deaths as a warning about where they, too, might be headed, the grief-stricken Hutchens and Carter sank even further into the abyss over the next few years. In the fall of 2004, at the insistence of longtime friend and producer David Barbe (who was very consciously trying to give them a reason to get out of bed in the morning), they began recording
Last Night Out
. It was during those sessions that Hutchens hit an all-time low.
"I'd come in in the morning and do a vocal take, go to the bathroom and throw up, and have to go home for the day," he says. "As the title indicates, I considered that to be the last Bloodkin record. Very consciously, the lyrics were addressing that, along with a lot of other things."
Hutchens expected he'd soon be dead, and given his feelings about life at the time, the idea didn't really bother him that much. And his best friend, Carter—whose condition was even more dire—was right there with him, just like he'd always been.
LITTLE KIDS LIKE US JUST MAKE THE RULES UP
While Bloodkin's music has always dealt heavily with the loss of innocence, the partnership at its core is rooted in a time of innocence. Hutchens and Carter met when they were eight years old, living in Ripley, W.V. Bonding over a shared love of music and baseball, they became fast friends. Five years later, in middle school, they began playing together in their first garage bands, practicing at the house Eric's family had moved to on Skull Run Road, 20 miles away, on the outskirts of Ravenswood.
Looking back, Hutchens chuckles as he admits their personalities are embarrassingly the same as when they were kids. Carter agrees. "Things haven't really changed a lot as far as what we would joke around about," he says. "We still play this dice baseball game we played when we were little kids—Strat-O-Matic Baseball. We're still playing music—I guess some people would consider that a childlike endeavor."
"I have a tape," Hutchens says, "of when we were 11 or 12 years old—a little cassette recorder of us just talking. And, man, the things we talked about on that tape are the exact things you'd hear us talk about today—Bob Dylan, baseball…"
"…Rolling Stones, music, music, baseball," Carter finishes.
The first song the two remember writing together was called "Head of a Hound Dog," which they laugh heartily about now. But their earliest co-writing endeavor to have stood the test of time is "Wet Trombone Blues." Penned by the songwriting duo while in high school, it ended up on their 1999 album
Out of State Plates
, and they continue to play it live to this day.
After high school, Hutchens and Carter were dead set on pursuing their rock 'n' roll dreams, so they packed their bags and hit the road, first heading to Huntington, W.V., and then indie-music mecca Athens, Ga. The song "Ghost Runner" on their new album draws heavily from this transitional time in their lives. "You do lose your innocence," Hutchens says, "you do get older. 'Ghost Runner' is about two kids playing baseball in a field, but it's starting to dawn on them—'We're not going to be able to hang out in this field and play baseball forever. We're going to have to move out of this town and get jobs—you know,
grow up
.'"
Others Tagged With