Band of the Week: The Daredevil Christopher Wright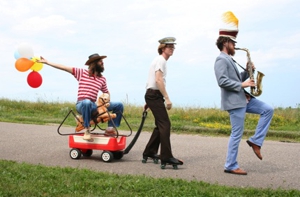 Hometown: Eau Claire, Wisc.
Members: Jason Sunde (bass, vocals), Jesse Edgington (drums, miscellaneous percussion, vocals), Jon Sunde (guitar, vocals)
Album: In Deference to a Broken Back
For Fans Of: Shearwater, Bon Iver, Sufjan Stevens

There's a track on The Daredevil Christopher Wright's debut LP that shares a name with the band and tells the story of a man who literally dedicates his life to performing death-defying stunts. The Wisconsin trio has taken similar leaps—not of he motorcycle-jumping variety, but nearly as risky and contingent on vulnerability. Their debut, In Deference to a Broken Back (out now on Amble Down Records), owes as much to the band's musical open-mindedness as two of its members classical training; its reference points are far-flung, from Chopin-does-acoustic-folk etudes, circus waltzes, string quartets, whistling, post-punk rock-out—even one of those plastic recorders you might recognize from elementary school music class.

Like any good escape artist, the band's refusal to surrender to presumed restrictions seems to be the key to their success. "Whenever I hear music that gets me excited, I just want to play that music, you know?" says guitarist/vocalist Jon Sunde. "And so the idea of having no kind of boundary or no formula to what could happen is just really appealing to me." Sunde and his older brother Jason were exposed to endless options as music students at the University of Wisconsin-Eau Claire, where they both earned vocal degrees. "I think we were both influenced pretty strongly by these things that were sort of harmonically dense and more ambitious," he says. "You get chained sometimes into these self-imposed rules, but it's really freeing when you can access these other directions."

For The Daredevil Christopher Wright, access has been key. The connections the Sunde brothers and drummer Jesse Edgington forged in school, plus the support of the broader Eau Claire music community, were integral to In Deference's creation. A large cast of musicians became an extension of the compositional range with which the band experimented. "There's a really strong music program here, so there's a huge group of folks who are just really talented at kind of any instrument you want," says Sunde. "We really wanted to try to access that, so all these amazing people agreed to help us and play on the record." The album features upwards of 25 credited guest performers, and through their label head Kyle Frenette, they landed fellow Wisconsin resident Justin Vernon of Bon Iver to mix nine of the album's 11 tracks.

The band will soon start recording a follow-up, which they hope will push them even further from typical three-piece instrumentation. Like their mythical, larger-than-life namesake, The Daredevil Christopher Wright seems poised for the next leap—which, in their style, is likely to be a big one. "Our idea, really," Sunde says, "was to do everything we'd dreamed about."

Stream all of In Deference To A Broken Back at the band's MySpace page.
Others Tagged With