Broken Social Scene Hits the Recording Studio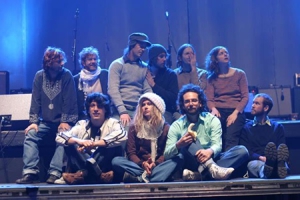 It's approaching a good four years since we've heard new material from our favorite Canadian collective, Broken Social Scene. Word on the web is the band has holed up in Chicago to record the follow-up to 2005's Broken Social Scene with producer John McEntire. And we couldn't agree more with those newshounds at Pitchfork who tipped us off: About damn time, indeed.
This is not to say that those BSSers have been twiddling their thumbs in the interim. Quite the contrary, in fact. Co-founders Brendan Canning and Kevin Drew have each put forth solo Broken Social Scene Presents... albums, while Leslie Feist made a major breakthrough with 2007's The Reminder, leading her to dance way right into an iPod Nano commercial and teach the kiddies to count to four on Sesame Street. The Canucks even dabbled in a little grass-roots, if you will, political campaigning for their neighbors to the South, encouraging Bonnaroo festival denizens to "put down the bong, and vote for Obama" last summer.
Busy, busy, sure, but bring on the upwards-of-10-band-members' shoegaze-y jams, dreamy vocals and meandering strings, we say. And perhaps a dose of change to the signature sound? After all, the forthcoming LP will see the band working with McEntire (Sea and Cake, Stereolab) for the first time after recording the previous two albums with Dave Newfeld. Drew seemed pretty happy with the new set-up, as he detailed a recent blog entry: "This plan has been in the works for nine months and it has all come together quite sweetly in the moments leading up to being here...he is a hero of ours when it comes to recordings so it seems very balanced that we are here." Check out the
full entry
for more deets, plus a lovely rant about living life to the fullest and steering clear of that "twitter shit." (Incidentally, you can follow
Paste
on Twitter
right here
!)
Finally, while you wait on the new album, you can always brush up on band-and-scene history by reading the aptly titled,
T
his Book is Broken: A Broken Social Scene Story,
by Stuart Berman, out now. If you'd prefer some flesh-and-blood BSS, you can catch the band at any of these four summer festivals:
3
- Rothbury, Mich. @ Rothbury Festival
4
- Des Moines, Iowa @ 80/35 Festival
11
- Toronto, Ontario @ Harbourfront Center
26
- Lake Tahoe Calif. @ Wanderlust festival
Others Tagged With