Cotton Jones Adds July Tour Dates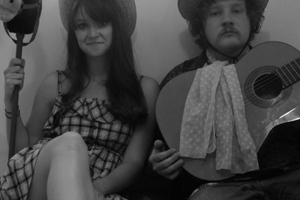 Last year, former Page France frontman Michael Nau took us on a basket ride with his new side project and the release of two EPs. This year, hot on the heels of Cotton Jones' well-received debut, the cowboy chamber pop set is saddling up for a spring/summer tour, just recently announcing the addition of July dates to the agenda.
Nau and his female counterpart, former Page France singer Whitney McGraw, will swing by some summer festivals (including
Bonnaroo
) on the trek, in addition to scads of other stops along the way. The extensive tour kicks off May 22 in Bloomington, Ind., and wraps in Baltimore, Md. Cotton Jones will be joined by a number of artists along the way, including The Antlers and
John Vanderslice.
22
- Bloomington, Ind. @ Bear's Place
23
- Chicago, Ill. @ Schubas*
24
- Minneapolis, Minn. @ 7th Street Entry*
26
- Denver, Colo. @ Hi Dive*
27
- Salt Lake, Utah @ Kilby Court*
29
- Seattle, Wash. @ The Triple Door*
30
- Portland, Ore. @ Doug Fir
31
- Eugene, Ore. @ Sam Bond's Garage**
2
- San Francisco, Calif. @ Cafe du Nord**
4
- Los Angeles, Calif. @ Spaceland**
5
- San Diego, Calif. @ Bar Pink**
6
- Tucson, Ariz. @ Plush**
8
- Denton, Texas @ The Hydrant
9
- Austin, Texas @ Emo's
11
- Little Rock, Ark. @ Sticky Fingerz Chicken Shack
12
- Manchester, Tenn. @ Bonnaroo
13
- Manchester, Tenn. @ Bonnaroo
14
- Atlanta, Ga. @ Drunken Unicorn***
16
- Chapel Hill, N.C. @ Local 506^
17
- Charlotteville, Va. @ Outback Lounge^
18
- Arlington, Va. @ IOTA Club & Cafe^
19
- Philadelphia, Penn. @ M Room^
20
- Brooklyn, N.Y. @ Union Hall
21
- Cambridge, Mass. @ Middle East^
22
- Pittsfield, Mass. @ Mission Bar
23
- Buffalo, N.Y. @ Big Orbits Soundlab
24
- Cleveland, Ohio @ Beachland Tavern
25
- Cincinnati, Ohio @ The Comet
7
- Nashville, Tenn. @ The End#
8
- Columbus, Ohio @ Rumba Cafe#
9
- Pontiac, Mich. @ The Pike Room at the Crofoot#
10
- Toronto, Ontario @ Horseshow Tavern ^^
11
- Ottawa, Ontario @ Cisco Systems Bluesfest
12
- Montreal, Quebec @ Club Lambi
14
- Portland, Maine @ Space ##
15
- Providence, R.I. @ Club Hell ##
16
- Hamden, Conn. @ The Space ##
17
- Baltimore, Md. @ The Ottobar
* w/ Lightning Dust
** w/ The Parson Red Heads
*** w/ Peter Silberman (of The Antlers)
^ w/ The Antlers
^^ w/ John Vanderslice
# w/ Frontier Ruckus
## w/ Mean Creek
Others Tagged With