Dawson's Creek Creator's Vampire Series Picked Up by the CW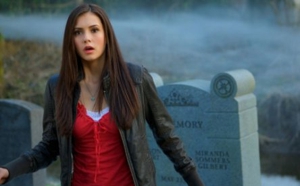 In an obvious bid to cash in on the cultural resurgence of vampires, The CW has picked up The Vampire Diaries for next season, a new series with Dawson's Creek creator Kevin Williamson on board as a writer and producer.

Williamson, who also wrote Scream, I Know What You Did Last Summer and other movies, has worked on several series that faltered early in their runs. But Diaries, based on the books about a girl in a love triangle with a pair of vampire brothers, seems positioned to tap into the Twilight base.

As expected, the network also announced plans to bring Melrose Place back in the timeslot after 90210 on Tuesdays. The Beautiful Life, a drama about the lives of models, will follow America's Next Top Model on Wednesdays.

Gossip Girl, Supernatural, Smallville and One Tree Hill will all return. The most notable omission on the schedule is the planned '80s spin-off of Gossip Girl, which the network declined to pick up despite hype earlier this year.

Related links:
List of the Day: Gossip Girl's Best Musical Moments
News: Gossip Girl spin-off headed to '80s L.A.
News: Thurston Moore, Jemina Pearl do Ramones for Gossip Girl

Got a news tip for Paste? E-mail news@pastemagazine.com.

Others Tagged With