Echo and the Bunnymen Blast into Space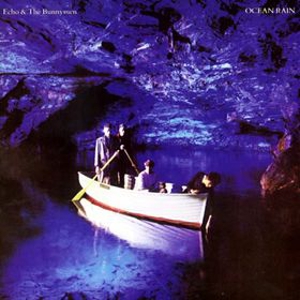 Following in the footsteps of John Lennon and Paul McCartney, Echo and the Bunnymen are taking a NASA-sponsored jaunt into space. Not that Ian McCulloch and the gang are actually planning to blast off in body. Colonel Timothy L. Korpa will be bringing Ocean Rain, the Bunnymen's 1984 album, along with him on his upcoming three-month tour aboard the International Space Station.
Although
Ocean Rain
is Korpa's favorite Bunnymen album, he contacted McCulloch and asked which album the veteran rocker would most like to see fly into space. Luckily, the two men agreed on
Rain
as the best choice. "What an honour," said McCulloch in a recent statement. "Now it's official. We are the coolest band in the universe. As a kid I dreamt of being an astronaut, and now in a way it feels like I'm fulfilling that dream. I cannot wait to hear from Tim what it is like to listen to 'The Killing Moon' in the actual glow of the moon."
NASA made a
big deal
about broadcasting the Beatles' "Across the Universe" directly into space via it's Deep Space Network. But touting one's favorite album beyond earth's atmosphere opens up a whole new world of possibilities (not that this hasn't been done before, it's just one of the most highly publicized instances). It might just make "Desert Island" picks obsolete (a game played with great fervor by
Paste
rs when initiating interns, in case you were interested). Who cares which albums you would bring onto a desert island when you can ask which albums would go into outer space? What would you want to show an entirely new race of beings (or, you know, single-celled organisms on Mars) as a representative of this planet's music? Now that's a lot of responsibility.
Wired
suggested
Birth of the Cool
by Miles Davis, DJ Shadow's
Entroducing
and Pink Floyd's
The Dark Side of the Moon
, among others. A decent list, but we would add a little Van Morrison (
Astral Weeks
, probably). Plus, man cannot live on music alone. In fact,
Star Trek
was just beamed into space via NASA's Mission Control center, so the possibilities seem endless.
Conveniently, an
Ocean Rain
box set will be released on May 30, to include a live version of the album recorded at the Liverpool Arena last November and a DVD documentary and booklet. Since the
Ocean Rain
performances were such a success last year, the Bunnymen are planning a set of shows for this year's festival circuit. They'll be playing at Glastonbury, Hop Farm, All Points West, Electric Circuit and Liverpool.
Others Tagged With