Gang of Four Celebrates 30 Years with Entertainment! Tour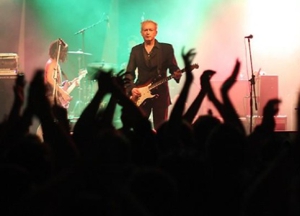 After 2008's many triumphs and tribulations, Gang of Four is rocking out in 2009, and celebrating all year long, since this year marks the group's 30th anniversary. And what better way to commemorate 30 years of the band's signature polemical post-punk than with a tour?
Like most anniversary tours, the band ain't exactly what it used to be. With two members lost and two new members gained, Gang of Four only has two original members. But that's not stopping the Gang from lining up a celebratory
Entertainment!
tour.
The group's debut album put it on the map (and has since made it onto myriad all-time lists, including
Rolling Stone
's top 500 albums of all time). The 1979 album was a landmark for both the band and the music world in general.
Gang of Four will perform
Entertainment!
in its entirety on the tour, in addition to special back-catalogue rarities. Even if you can only whistle the tune of "Natural's Not In It," check out their U.K. dates:
18
- Edinburgh, Scotland @ HMV Picture Desk
19
- Glasgow, Scotland @ ABC1
25
- Leamington Spa, England @ The Assembly
26
- London, England @ HMV Forum
And hey, if you can't whistle the song, now's a great time to learn:
Fingers crossed from some U.S. dates!


Others Tagged With