HBO Greenlights David Simon's Post-Katrina NOLA Series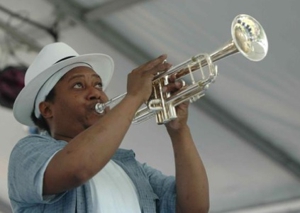 A drama series that follows the lives of musicians living in post-Katrina New Orleans is set for a Fall debut on HBO, according to The Hollywood Reporter. The show is the brainchild of The Wire co-creator David Simon.
Treme
, named after one of the oldest neighborhoods in New Orleans, already sports a weighty cast which includes
The Wire
alums Wendell Pierce and Clarke Peters, both of whom played detectives in Simon's critically acclaimed series. Other actors on board include Oscar-winning Melissa Leo (
Frozen River
), Steve Zahn (
That Thing You Do
), Khandi Alexander (
CSI: Miami
) and Kim Dickens (
Deadwood
). Most interesting of Simon's casting decisions is Phyllis Montana LeBlanc, a Katrina victim and memoirist who made her first on-screen appearance in
Spike Lee
's documentary,
When the Levees Broke.
In the interest of authenticity, Simon has also enlisted the help of several local writers for his scriptwriting crew, including a
Times-Picayune
reporter and a local author. He also consulted
Donald Harrison Jr.
,
Kermit Ruffins
(pictured above) and
Davis Rogan
, three prominent New Orleans jazz musicians, to research the local-music culture.
Simon has had an interest in producing a television drama based on the New Orleans music culture even before Katrina, he
said
in a 2006 Q&A he held with fans of
The Wire
. The beginning of
Treme
will take place a few months after Katrina.
The show began shooting in New Orleans on March 9. The first day of shooting was celebrated by a
surprise barbeque
by Kermit Ruffins, who is known in NOLA not only for his rhythm and blues, but also for his giant barbeque grill that's seemingly permanently affixed to the back of his truck.
While HBO hasn't settled on a series length, the show is in post production now and expected to launch in the Fall.
Others Tagged With