Hot Chip Talks New LP, Remixes Fischerspooner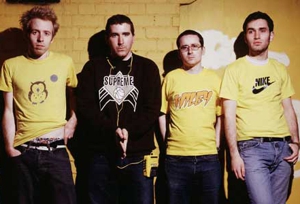 The boys of Hot Chip are hard at work in the sudio readying a follow-up LP to last year's much-fêted
Made in the Dark
, as guitarist Al Doyle intimated in a recent
interview with

Time Out London
. What's more, they've cooked up a way to preview that material through a philanthropic project with a unique twist: hidden shows to benefit London's homeless.
The idea behind these secret gigs, Doyle explains, was to "give people a very, very vague taste of what it might be like for homeless people to experience insecurity about where they're going to spend the night. In London there's a network of shelters and hostels across the city, and the various agencies will tell homeless people where there are spaces free on various nights. Then they may have to start trekking. With these gigs, you buy your ticket but you don't find out where the gig's taking place till you get a text 24 hours before."
As part of the shows, Hot Chip previewed some material from their forthcoming (
possibly Peter Gabriel-flavored
) LP, now avowedly a "big, upfront pop album. Short and punchy, big riffs, big choruses. We just thought we'd really go for it, make a more concise and cohesive record than some of them have been. We'll also be playing a mixture of all our musical tastes - some disco, some techno, some classic pop... I would say it's unlikely that anyone will play 'Streets of London.'"
No word on a tracklist yet, but the as-yet-untitled album is tentatively set for release in 2010. In other Hot Chip news, the lads have crafted a catchy-as-hell remix of Fischerspooner's "We Are Electric" that'll most likely wend it's way to a B-sides album or bonus disc. Check it out on
Fairtilizer
:
Others Tagged With