Jay Reatard Gears Up for New Album, Summer Tour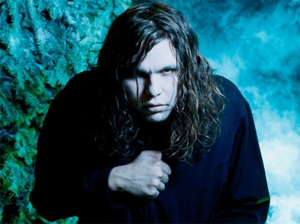 He's been called the new voice of punk and one of the hardest working men in the business; both of these things are probably true. Never one to fall short of the hype, Jay Reatard is putting some finishing touches on his premiere full-length of new material with Matador Records, Watch Me Fall, which is now confirmed for an Aug. 18 release.
What else is the industrious Reatarded one up to? A cursory glance at his
new website
(complete with entertaining Twitter feed) opens the lid to a veritable treasure trove: a
Record Store Day
split single with Sonic Youth (good luck on eBay, y'all), a B-sides compilation album called
Greatest Messes
on the way, and a free download of
Watch Me Fall
's first single "Ain't Gonna Save Me".
To top it off, he's managed to bend space-time to eke out enough spare moments for a summer tour. Scratch that first part, he's
definitely
the hardest working man in the biz right now:
11 - San Diego, Calif. @ Casbah
12 - Los Angeles, Calif. @ The Echo
13 - San Francisco, Calif. @ The Independent
15 - Seattle, Wash. @ Crocodile Café
16 - Vancouver, B.C. @ The Biltmore Cabaret
17 - Portland, Ore. @ Dante's
19 - Long Beach, Calif. @ Alex's Bar
26 - Chicago, Ill. @ Bottom Lounge
27 - Detroit, Mich. @ Magic Stick
28 - Cleveland, Ohio @ Grog Shop
29 - Toronto, Ont. @ The Mod Club
30 - Montreal, Que. @ La Sala Rossa
1 - New York, N.Y. @ Stuytown Oval Concert
2 - Brooklyn, N.Y. @ Music Hall of Williamsburg
3 - Allston, Mass. @ Harper's Ferry
5 - Washington, D.C. @ Black Cat
7 - Asheville, N.C. @ Orange Peel
8 - Knoxville, Tenn. @ Pilot Light
9 - Nashville, Tenn. @ The End
10 - Memphis, Tenn. @ Hi-Tone Café
11 - Oxford, Miss. @ Proud Larry's
Others Tagged With