Jonathan Safran Foer's Nonfiction Book, Eating Animals, Coming in November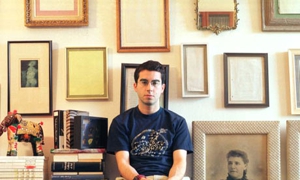 Jonathan Safran Foer wrote two of the most zealously admired novels of recent years, Everything is Illuminated and Extremely Loud and Incredibly Close. But for his third book, the nonfiction Eating Animals, the vegetarian and occasional vegan turned to longtime personal questions about his diet.
In a recent
interview with TheYoungAndHungry.com
, Foer deflected questions about the new book but offered an outline of what we can expect. He said the book makes "a pretty broad argument," which began as a personal narrative and eventually became "an argument for other people."
We imagine that means an anti-meat argument, and somewhere we can already hear the tsk-tsk wrath of the anti-PC crowd. But as this writer and others who have gone vegetarian without any overriding reason can attest, questions about diet can be elusive, and the book may help fill a void between outspoken advocates and ambivalent converts.
Foer said he finally felt compelled to tackle the issue because he has two young children, and before long he will have to explain diet choices to them.
Eating Animals
is due out in November.
Related links:
YouTube.com: An interview Jonathan Safran Foer
Google Books: Everything is Illuminated
Official site: Extremely Loud and Incredibly Close
Got news tips for Paste? E-mail news@pastemagazine.com.
Others Tagged With