Mastodon Mulls Crack the Skye Film Adaptation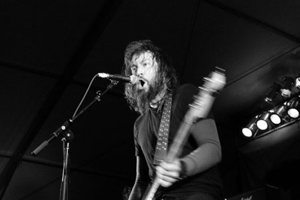 Metalheads seeking to audibly transcend the bounds of earth through Mastodon's international Summer tour might be getting a movie preview while they're at it. As the Atlanta band performs in-full the Russo-galactic tale driving its new concept album Crack the Skye, Billboard reports tentative talks of a film adaptation.

Drummer Brann Dailor wouldn't divulge to Billboard any of the "three different directors" Mastodon spoke to about bringing to life the record's ambitious plot, which involves a Tommy-like disabled individual (a paraplegic, in this case) embarking on Ziggy-like astral adventure that lands him inside the body of that rascally old mystic, Rasputin.

Costs could keep it grounded, however, as the complicated story hinders on a cosmic trip through a wormhole rather than, say, a commute to Macon. The band is apparently realistic about this, Dailor saying, "[W]e're in a time period where labels are doing significantly less, moneywise, or trying to cut back, and making movies isn't exactly cutting corners." He also said they "don't want to half-ass it," so embracing camp and/or claymation is out.

Related links:
MastodonRocks.com
Mastodon on Myspace
WarnerBrothers/Reprise Records

Got news for Paste? E-mail us at news@pastemagazine.com.
Got news tips for Paste? Email news@pastemagazine.com.
Others Tagged With