New Buffy the Vampire Slayer Movie Coming Soon?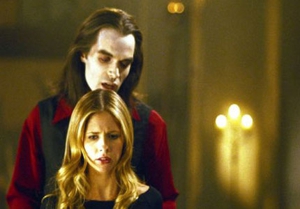 If vampires are even a fraction as common in real life as pop culture makes them out to be, we should probably all consider investing in some garlic and a stake. There's the Twilight franchise, of course, but also fare such as HBO's True Blood and the recently-announced CW drama, The Vampire Diaries. But in the media cyclone surrounding Edward and Co., have we all forgotten the early vampire television staple, Buffy the Vampire Slayer?

Fran Rubel Kuzui, who directed the first Buffy film, sure hasn't. She is talking with Vertigo Entertainment, the company who brought us The Grudge (which, coincidentally, starred the Slayer herself, Sarah Michelle Gellar) and The Departed, about bringing the once-popular series back to the silver screen.

But Buffy fans shouldn't expect the movie to be a continuation of the series, which wrapped in 2003. As of right now, Buffy creator Joss Whedon is not involved with the negotiations, though the film's producers haven't approached him about the project yet. In addition, some of the most popular Slayer sidekicks and nemeses (including Angel, Willow, Xander and Spike) won't be included in the script. Rather, Kuzui and Vertigo hope to respect Whedon's creation as its own beast and start a new story line altogether.

Related links:
High Gravity: 10 Best Sci-Fi TV Shows
News: Joss Whedon's horror flick gets ensemble cast
News: Director Catherine Hardwicke out for Twilight sequel

Got news tips for Paste? E-mail news@pastemagazine.com.

Others Tagged With