Robert Rodriguez Eyes Machete, New Predator Flick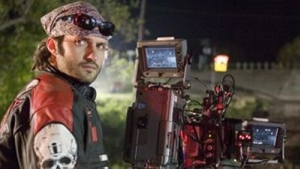 For some people, the mock trailers sandwiched between the two movies that made up Grindhouse were the highlight of the show. There were many of them, but the undisputed gem is Machete, which features genre mainstay Danny Trejo as a former federale who is double-crossed by an American senator and takes theatrical revenge for the misdeeds against him.
Never one to let a good exploitation flick go to waste,
Robert Rodriguez
has decided to expand the trailer into a feature-length movie. Rodriguez wrote the script and will co-direct with Ethan Maniquis this summer, with a non-studio direct-to-DVD release most likely. Here's the original mock trailer (NSFW, obviously):
As if that wasn't enough, Rodriguez also told
Variety
that he has completed a script,
Predators
, designed to reboot the alien-hunter franchise now stuck in
Alien vs. Predator
mode. A tireless champion of exuberant violence and the poetry of the action movie, he could not be more suited for the job.
Rodriguez's latest, the kids' flick
Shorts
, opens in August.
Related links:
Others Tagged With