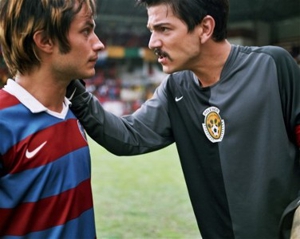 Release Date
: May 8
Director/Writer:
Carlos Cuarón
Cinematographer:
Adam Kimmel
Starring:
Gael García Bernal, Diego Luna, Guillermo Francella
Studio/Run Time:
Sony Pictures Classics, 103 mins.
Mexican soccer parable suffers identity crisis
The title of director Carlos Cuarón's deflated feature debut,
Rudo y Cursi
, roughly translates to "rude and campy" in English. The adjectives serve as the de facto nicknames of Tato (Gael García Bernal) and Beto (Diego Luna), two brothers who rise from the third-world trappings of a dusty-road banana ranch to become renowned soccer stars. The pair's fortune escalates to a critical mass of decadence until their vices jeopardize their new found prosperity. Equal parts slapstick comedy, social commentary and rags-to-riches parable, the story attempts to construct a multi-layered narrative with a groundswell of social subtext. And like its lead characters, the film hits a successful stride until it aims for goals way beyond its means.
Watch the trailer the Rudo y Cursi trailer:
Others Tagged With