Paste's Guide to Sasquatch! 2009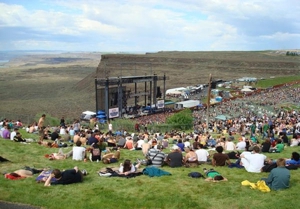 May 23-25,
George, Wash.
Music highlights
: The Decemberists, Of Montreal, The Avett Brothers, Mos Def, Sun Kil Moon, BLK JKS, Dent May & His Magnificent Ukulele, Yeah Yeah Yeahs, Girl Talk, Bon Iver, Animal Collective, Explosions in the Sky, Mike Watt and The Missingmen, Viva Voce, Erykah Badu, Mugison, King Khan & the Shrines, The Wrens, Passion Pit, DeVotchka, Silversun Pickups
Comedy highlights
: Tim & Eric, Todd Barry, Maria Bamford, Zach Galifianakis, Aziz Ansari, Demetri Martin, The Whitest Kids U Know
Sasquatch! boasts the most breathtaking festival location in the U.S., rivaled only by Red Rocks Amphitheater's Monolith Festival. This gorgeous natural setting—three hours outside of
Seattle
on the
Columbia River
Gorge—is essential to Sasquatch!'s appeal, as is the Gorge Amphitheater's capacity of 20,000 people, creating an experience far more intimate than most festivals with similar-caliber lineups.
Sasquatch! began in 2002, the same year as Bonnaroo, but made far less of a splash. That first year, promoter Adam Zacks started small, with a one-day festival, booking just 12 acts, including Blackalicious, Ben Harper and the String Cheese Incident.

Since its humble beginnings, Sasquatch! has become an immensely eclectic three-day event. Now one of the top American festivals, it offers everything from the bookish indie folk of The Decemberists and the affecting gypsy pop of DeVotchka to the South African psych rock of BLK JKS and the garage-soul revival of King Khan & the Shrines. And Sasquatch!'s comedy lineup features the biggest collection of rising stars you'll see at any festival this summer.

Check out Paste's recommended Sasquatch! 2009 schedule:


Others Tagged With