Scarlett Johansson and Pete Yorn Break Up on New Album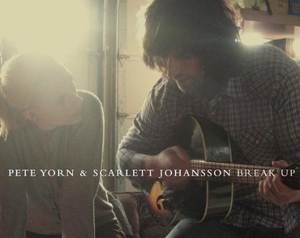 It's a musical hook-up made in blogger heaven: New Jersey-bred singer/songwriter Pete Yorn and New York-bred actress/singer Scarlett Johansson will release an album of duets Sept. 8, titled Break Up. For the eager fan, a single, "Relator," is already streaming on the record's website.
According to
USA Today
, the album was recorded two years before Johansson released her compilation of Tom Waits covers,
Anywhere I Lay my Hea
d, in May 2008. Somehow combining eight Yorn originals with late Big Star founder Chris Bell's
I Am the Cosmos
, the album follows a relationship's affair-ridden cycle from love to break up, and was inspired by Serge Gainsbourg's recordings with Brigitte Bardot in the 1960s. The dreamy idea was literally just that: Yorn says the concept came to him while sleeping.
The love-lorn album was poduced by Sunny Levine, who has worked with Yorn, The Happy Mondays and Mickey Avalon, and will be released via Atco/Rhino.
Break Up
is just one of many projects on the plates of both artists. Yorn is set to release his latest,
Back and Fourth,
on June 23; Johansson is currently filming
Iron Man 2
.
Others Tagged With