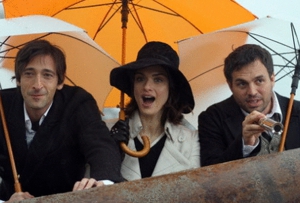 Release Date:
May 15 (limited), May 29 (wide)
Director/Writer:
Rian Johnson
Cinematographer:
Steve Yedlin
Starring:
Adrien Brody, Rachel Weisz, Mark Ruffalo
Studio/Run Time:

Summit Entertainment, 109 mins.

Rian Johnson delivers noir poetry in vibrant sophomore effort

"He writes his cons the way dead Russians write novels"—this line from
The Brothers Bloom
not only illustrates the skills of schemer Stephen (Mark Ruffalo), but it also perfectly describes director
Rian Johnson
's gift for constructing neo-noir masterpieces that manipulate the emotions of his audiences with enthralling grift. Featuring a cast that can do no wrong,
Brothers Bloom
stars Ruffalo and Adrien Brody as a pair of fraternal conmen who mark an eccentric heiress—the magnetic Rachel Weisz—for her fortune. After crafting an entire language of hard-boiled vernacular in his jarring debut,
Brick
, Johnson makes a more approachable film along a syncopated rhythm of saturated camera pans and clever plot beats. But Ruffalo, Brody and Weisz don't rest on plot twists and double crosses alone; their melancholic and moving characterization dominates the film as much as the sleight-of-hand on the main stage. A near-perfect symphony of intellect and entertainment,
The Brothers Bloom
forms one the most memorable cinematic families this side of the
Tenenbaums
.

Watch the trailer for The Brothers Bloom:
Others Tagged With