Twitter, the Movie: Director Frank Kelly Talks 140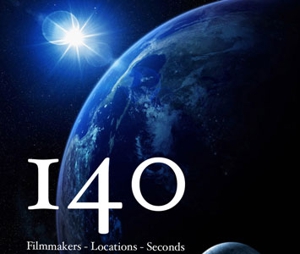 Social media phenomenon Twitter has spawned gossip, hilarity, feuding (complete with 140-character-or-less zingers), and above all, an exponential decrease in workplace productivity. Independent filmmaker Frank Kelly, however, is seeking to find meaning in Twitter beyond abbreviated witticisms and one-liner celebrity snubs with his latest documentary, 140.
The Irish filmmaker is creating a feature-length documentary inspired by the connectivity and synchronicity that Twitter users experience. 140 will consist of 140 different filmmakers, each shooting 140 seconds of film that represent what connects the filmmaker to their home. Oh yeah, and the footage will all be shot simultaneously. Kelly described the process in a press release for the movie: "I'm asking the filmmaker what it is that connects them to their home. It can be anything they want, a landscape, cityscape, a sunrise, a wife, husband, child... doesn't matter. But it has to be captured in 140 seconds and at the same time as everyone else."
The theme, the filmmaker says, is connection. "The idea came from being able to communicate with a lot of people at once," Kelly told
Paste
in a recent interview. "And the fact that you could actually synchronize something: You put a message up, and everyone who's following you gets it instantly."
The synchronicity of Twitter inspired Kelly to have all 140 filmmakers shoot their footage at the same time. Although it may sound like a logistical nightmare, Kelly is confident that single-handedly harmonizing that many filmmakers will be easier than it sounds. "I've had so many people ask me, 'How are you going to organize that?' It's kind of simple, though, because for everyone involved, it's just a small personal project, something that's very honest." 
Kelly is still in the midst of recruiting all of the filmmakers, but with the help of Twitter and other social-networking venues, there are already 60 participants on board. The experience of the group runs the gamut. "There are a couple of students, one in Utah who is 18 years old," Kelly says. "It goes from him all the way up to commercially successful, award-winning short filmmakers and documentary filmmakers. I wasn't going to tell anyone no, because the main thing is to get across the filmmaker's point of view. Just because they weren't established didn't change the fact that they had a personal connection with something."
The varied pool of directors will result not only in an assortment of backgrounds and styles, but also a collection of visually diverse footage. "People were worried about not having access to expensive equipment, and I said to them, 'Just film with what you have,'" Kelly remembers. "So, all the footage is going to look different." Adding to the hodgepodge of perspectives, the current list of filmmakers spans nearly every continent on the globe. From Mumbai to Malaysia, the filmmakers will all be shooting in individual locations. Although Kelly says he didn't purposefully seek out such geographical diversity ("It just happened like that."), he is looking forward to the patchwork of footage that will result from it. "It'll be interesting to see what themes come out of it," Kelly says. "I'm sure people have the same kind of connections, and their films will be similar in some way. Then there will be some, I'm sure, that'll be completely off the wall." 
Kelly signed up for Twitter as it was just beginning to gather steam. "When I first get into something like that, my first thought is how I can use it as a tool," he says. "How can I use this to benefit my life rather than act as a distraction in my life?"

Distraction, indeed. With many Twitterers updating their every move throughout the day, the website has certainly gained its critics. But Kelly insists that Twitter has neither jumped the shark nor resulted in a mass sense of self-absorption. "As humans, we constantly long for connection," he says. "We long to be involved with something or someone. We all have jobs to do, we have to make a living, and a lot of that involves being alone. So I think Twitter is a way to stay connected."

While rumors, celebrity fights and attention-craving does abound on Twitter, Kelly sees it as both a tool that artists can use, and as a source of inspiration. "It's like doodling in your notebook while you're in class," he says. "It's fun, and it's a distraction, but it's also that connection, something you have during the day, even at your job, that keeps you connected with what you love to do." 
While Kelly is still looking for filmmakers (you can contact him on
Twitter
, of course, if you're interested), he has set a date for shooting: June 21. "If I don't set a date for this one, it'll never happen," Kelly jokes. But once the footage is collected, he will spend months editing. "I visualize the end product as like a day in the life of the planet," Kelly says. "It'll capture the same moment across the world."
As a film jack-of-all-trades, Kelly has played the roles of director, producer, writer and editor, even scoring some of his previous films. But for the music this time, he's looking to reach out to well-established bands. Topping his wish list? "Sigur Rós would be exactly the type of music I'd want for this film," he says. "And I'm going to ask them; you never know until you ask."
Others Tagged With