Amanda Palmer Plans Book, Shows, Releases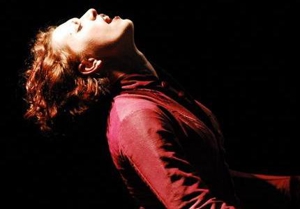 After taking in years of punk-cabaret entertainment with the Dresden Dolls and the release of a killer, Twin Peaks-inspired solo effort, Who Killed Amanda Palmer, it might have seemed difficult to imagine the next page in the storied career of AFP (That's "Amanda Fucking Palmer." Her words, not ours). Hell, you might've considered enlisting the services of the Log Lady to predict what was in store.
No need, folks. Miss Palmer happens to be a tell-all kind of artiste, and she's forked over a detailed to-do list for the next year in her out-there creative life. In the form of a long, circuitous, and charmingly funny e-mail to fans and friends, she detailed everything from the book she wants to pen to the book she
wants to read
in her spare time. Oh, and everything in between. Read on for a round-up of some of the big things on her agenda:
For starters, she's shipping out to lovely Edinburgh for its famed
Festival Fringe
come August, where she'll peform. "I plan to Twitter many random ukulele gatherings and cake-eatings," she says. Duly noted. After that, she's toying with the idea of a stateside tour before she heads to Australia to hibernate this winter.
Palmer expects to find out by the end of June whether she and the Dresden Dolls will be dropped from their label,
Roadrunner Records
. "Until then my release schedule is up in the air -- I do hope to let loose my old first solo tape (from 1998) as soon as/if I'm unshackled," she says. In other news, she plans to write a book about "performance and fear and love," and is keeping up with her yoga regimen, in case you were wondering.
As for the near future, Palmer is content to play a few small shows for fans in the summer months.
Dates:
25
- Los Angeles, Calif. @ The Troubadour
24
- Sad Diego, Calif. @ San Diego Women's Club
26
- Lake Tahoe, Calif. @ Wanderlust Festival
8
- Moscow, Russia @ Afisha Picnic Festival
Others Tagged With