Band of the Week: Wye Oak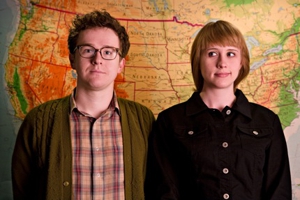 Hometown: Baltimore, Md.
Band Members: Andy Stack (drums, keys), Jenn Wasner (guitar, vocals)
For Fans Of: Yo La Tengo, Pixies, Guided by Voices

"I like bands that you have to look a bit to find it, where you have to really listen," Jenn Wasner says of the music that moves her. Fittingly, as one-half of Wye Oak, she makes just that kind of music with her longtime friend and band-mate Andy Stack. Named for a tree in Talbot County, Md., that was once believed to be the oldest white oak in America, the duo easily straddles the narrow chasm between making music and making noise. Wasner's dreamy vocals are propelled by Stack's pinpoint drumming and his inventive manipulation of a wide array of musical toys, until a burst of guitar threatens to strangle the life out of her powerful words—and it's in those moments of contrast that the beauty of Wye Oak is revealed.
Unlike bands that use noise like a wide paintbrush, covering all that they do with dense feedback and volume, Wasner and Stack use noise as a precise scalpel, carving tiny pockets out of their songs into which they can insert what Wasner calls "sonic explosions that come out of nowhere." Wye Oak's sound was not born from some well-thought-out plan, but out of simple necessity. After playing together in a number of previous bands, in 2006 Stack and Wasner struck out together to make it as a duo, which set musical limitations that shaped their sound. "When I started playing the bass and drums together, we thought it was just a temporary thing," Stack says. "We didn't want to be this acoustic folk-duo, we wanted to be a little more raucous, more raw and loud. We started the current line-up under the idea that we would bring someone into fill in and instead it just took off."

Barely a year after they started playing together, Wye Oak was signed to Merge Records after their demo, If Children, caught the ear of Mac McCaughan, Superchunk frontman and founder of indie super-label. Merge re-released If Children in 2008, and work on Wye Oak's follow-up started shortly thereafter. The new album, The Knot (set for release July 21), finds Stack and Wasner growing more comfortable with their still-developing sound. Wasner deliberately moved her vocals to the fore of the tracks to highlight the new songs' lyrical depth, and Stack seems to have found even more ways to coax an array of sounds from of his limited set-up.

The strength of the new album can be attributed in part to the duo becoming more comfortable with its own live set-up, which they were fleshing out while recording their debut. But even now, Wye Oak is still growing. "It is always good to surprise yourself and see how you adapt. I was one of the biggest detractors of our setup when we started," Wasner says. "And now I am the biggest supporter."

Download "Take It In" from Wye Oak's The Knot.

Others Tagged With