Catching Up With... Patterson Hood of the Drive-By Truckers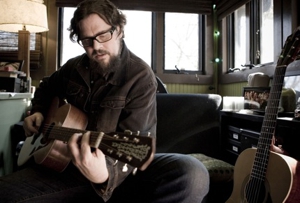 In 1994, when he wrote half the songs for his new solo album Murdering Oscar and Other Love Songs, future Drive-By Truckers frontman Patterson Hood was fresh off of a bitter divorce and living what he calls "a more bohemian" lifestyle. Fast forward to 2004: Hood—now with a successful band, loving wife, and his first child on the way—stumbles on a cassette of those lost tunes and is impressed enough with what he hears to finish the album. But instead of trying to revisit that darker, more uncertain time in his past, he fills out Murdering Oscar with freshly written songs that provide a counterpoint to what he'd started a decade earlier. Today, after an additional five years in label limbo, this long-awaited record is finally seeing daylight.
This spring,
Paste
caught up with Hood backstage before a Drive-By Truckers show at the Music Farm in Charleston, S.C. Having just emerged from a near 18-hour slumber (the following day the singer/guitarist would be hospitalized with walking pneumonia), Hood shook off the grogginess as we discussed his forthcoming solo album, the struggles of life on the road during DBT's leaner days, the band's breakthrough double album
Southern Rock Opera
, the prospects of a second tour with The Hold Steady, his love of Neil Young, and the Truckers' collaboration with soul legend Booker T.
Paste: You and the rest of the Truckers just recorded Potato Hole with [Stax legend] Booker T, but it's not the first time you've done the backing-band thing—you did a record not too long ago with Bettye LaVette. How was the experience different working with Bettye LaVette versus Booker T?

Patterson Hood:
About polar opposite, about as different as it could be. About the only thing they have in common is they're both kind of legends, and I'm real happy with the way both records turned out, and we learned a lot from both. Booker was one of the sweetest, easiest people to work with I've ever worked with in my life. It was kind of like a four-year education in four days. We literally cut the whole album in four days in Athens at David Barbe's [studio, Chase Park Transduction]. We got offered the job less than two weeks before we finished it. We were on the road, and we had this week-and-a-half window where we were going to be off, and Andy Kaulkin from ANTI- [Records]—who put together the Bettye thing—called us. We were in Denver playing the [Democratic National] Convention, and he was like, "Wanna make a record with Booker?"
I'm like, "Yeah. When can we do it?"
He's like, "How 'bout next week? Can you fly out to L.A. and do it next week?"
And I'm like, "No way in hell, man. We been gone for a month, my wife will kill me. There's no way. I cant do it."
And he's like, "What if we come to y'all and do it in Athens?"
And it's like, "Well, [Mike] Cooley's wife's gotta agree then, 'cause we all live in different states, but if we can talk Ansley into it, then we can probably give that a try." So within a week they were there, and we recorded it in four days, and [then] they flew to California and hooked up with Neil Young and recorded his parts I think in one day. So it's very off-the-cuff. At the same time, [Booker] knows exactly what he wants. I mean, he walked in there—even though he'd never played with us, and didn't know how we played—and he knew exactly how to plug us in to what his vision of the record was. It sounds like us, and it sounds like him, and it sounds like Neil Young, too. Everybody really sounds like themselves, but who woulda thought of putting those three entities together? We had so much fun—I can't call it relaxed being done in four days, but it wasn't ever stressful. There was never any stress about it. It kinda
was
relaxed; we just worked our asses off. But it was such a positive vibe in the air that you wanted to work your ass off. You wanted to stay that extra hour to try to get one more song. I think we cut six of the songs on the last day. So it was pretty amazing.
Paste:
Had you ever met Booker T before? Had your dad [Fame/Muscle Shoals session player/producer David Hood] ever worked with him?
Hood:
Dad worked with him in a producer/artist arrangement. [Booker] produced a Carlos Santana album that my dad played on. That was in '82 I think—
Havana Moon
. And when I called dad and told him we were doing [
Potato Hole
], he was just so thrilled. He was like, "Man, you're going to love him. He's the most incredible artist you'll ever meet."
Paste:
It's funny, everyone seems to know Booker T's classic '60s instrumentals so well—"Green Onions" and "Time is Tight"—but I'd never really heard much about
him
. So he's a pretty laidback guy?
Hood:
Yeah, very. Doesn't drink, doesn't smoke. Extremely healthy. Looks about 20 years younger than he is. Looks great. I mean, golly, just a beautiful man. Very zen. He figured it out early, and stuck with it and kind of found his place in the grand scheme of things. He should write a book on life and how to live it. It's pretty amazing, that aspect of working with him, having a little bit of that rub off on us. Very much a family guy, in love with his wife. Just super-cool.
Paste:
Do you feel like working with Spooner Oldham—[another legendary soul keyboardist, who toured with DBT and played on their last album,
Brighter Than Creation's Dark
]—prepared you at all for working with Booker T?
Hood:
I don't know. I mean, maybe in the lack-of-intimidation factor. [Working with Spooner] has been such an amazing relationship that it gave us the confidence to work with somebody who's a bona-fide legend and not necessarily carry that baggage into it. But other than the fact that they're both great and they're both legends at what they do, what they do couldn't be more different. They both play keyboards, but it might as well be two different instruments. It'd actually be kind of cool to hear them together because it's so different.
Paste:
So you guys didn't get to work with Neil Young directly on the album [since he added his parts afterward in L.A.]?
Hood:
No. My hope of all hopes is that there's a show that he gets to make it in for, and we have a special surprise appearance. That would be just amazing.
Paste:
I was curious if you had gotten to work with him because I always felt like there was a lot of Crazy Horse in Drive By Truckers.
Hood:
Oh, goddamn yeah! More than probably any one single band in the world. Probably the single biggest influence would be that. I mean, he's been one of my very, very, very favorite artists since I was a little kid. My dad was a huge Neil Young fan, so I can remember being seven, eight years old just loving Neil Young.
Paste:
And talk about an artist who's been consistent over a long period of time...
Hood:
And not scared to be inconsistent, too! He's not scared to make a terrible record, and bless him for that. It takes balls to do something like
Landing On Water
, and I'm sure when he hears it, he still hears something in there that probably none of the rest of us hear that makes it valid to him, and bless him for that. He's always forged his own way, and making a few of those records probably enabled him to make
Freedom
and
Ragged Glory
later on. He's always searchin' and experimentin'—and what's more important artistically than that?
Paste:
Tell me about the solo record you just finished.
Hood:
It's called
Murdering Oscar and Other Love Songs
. I actually wrote the title cut [15 years ago], about a month after I moved to Georgia. It's weird because it's a group of songs—I wrote an album's worth of songs in '94 when I first moved to Athens, and I didn't have a band, I didn't have any money for studio time, I didn't have any means to do it.
Paste:
Was that even before you did [DBT-precursor] Lot Lizards?
Hood:
Yeah. It was the first thing I did when I moved to town. I recorded this album's worth of songs—there was like 10 songs recorded on cassette on a jambox—and it was called
Murdering Oscar and Other Love Songs
. And then the next thing I started working on after that was probably
Southern Rock Opera
and then
Pizza Deliverance
stuff.
Paste:
I didn't realize you wrote
Southern Rock Opera
before
Pizza Deliverance
.
Hood:
I started writing it a year before the band existed. It was kind of a separate thing. It wasn't even originally supposed to be for the Drive-By Truckers, it was something different I was working on. It started out as a screenplay outline—it was going to be a script. And the band kind of adopted it and took it over as we were touring behind
Gangstabilly
and
Pizza Deliverance
. But around 2004—around the time my daughter was being born—the band was finally taking a little bit of time off, and I had this idea… I stumbled on that [old] cassette one day at the house, and I listened to it and was like, "Goddamn, there's really something there. There's some really good songs there and they don't in any way sound like anything the Truckers would do"—at least the Truckers at that point in time; that's an irony I'll get to in a minute. But by that time my solo shows—I was playing with [DBT steel player John] Neff, and playing with a little more of a band arrangement anyway, and it seemed like a record for more that kind of thing. And I wanted to record with my dad—I've never recorded with him. So I ended up writing this batch of new songs that kind of were the counterpoint to the songs I wrote in '94, 'cause I couldn't have been more different. I mean in '94, the last thing I wanted was a family, and I was very much trying to embrace a more bohemian way of life. In '94, I'd just moved to Athens and was trying to get something started there, and so all my songs were from the point of view—I'd just gotten divorced and just left all that shit behind and turned my back on all that. But the songs I was writing in '04 were the polar opposite—I was expecting my first daughter. And I just loved the way the songs sat with each other. It almost goes back and forth—a '94 song, an '04 song—but not quite. So it's extremely bipolar. I recorded it in two weeks and intended to put it out that spring 'cause it was going to be between Trucker records.
Paste:
I remember hearing that you were working on it back then.
Hood:
I made it real quick at David Barbe's, and I got my dad to come in and play on it, and Barbe plays on it, and Will [Johnson] and Scott [Danborn] from Centro-Matic play on it—I love them and have been wanting to work with them real bad. And everyone that's in [DBT] now—except for Jay [Gonzales]—plays on it, but that's the weird irony is that now it sounds a lot more like a Drive By Truckers [record]—more like
Brighter Than Creation's Dark
than say,
Dirty South
or
Blessing and a Curse
. So I was really, really proud of it, and then there was kind of a falling out between us and our label at the time [New West]. They didn't really embrace the record and one thing led to another and we kind of ended up in this standoff for a while. So it didn't ever come out. Fortunately, that's all been resolved now and it's all good.
Paste:
Are you guys still with New West?
Hood:
No. [But] they're going to put out the
Austin City Limits
show, which I'm really thrilled about, really proud of, and I think they're going to do a record of outtakes and rarities, most of which are from the
Dirty South
sessions. There's about half an album left over from that that's pretty good. So that's going to come out hopefully at some point this year. We're probably about to sign a record deal, we're still kind of negotiating but I think it's going to all pan out.
Paste:
Who are you talking to right now?
Hood:
It's ATO. I shouldn't probably because it's not a done deal, but it's looking pretty good. We've been talking a long time and they've really been the only people we've been talking to for months, so hopefully it's going to all pan out. [Update: ATO has officially signed Drive-By Truckers, and will put out the band's next record.]
Paste:
With all that stuff that you were working on with
Murdering Oscar
, how did you end up putting out [your solo debut]
Killers and Stars
first?
Hood:
Killers and Stars
was a bunch of songs I was writing for what became
Decoration Day
, and we were working on finishing
Southern Rock Opera
at that time, and the band had this huge falling out. We'd hit a wall. We'd been on the road too long. We'd been out there…
Paste:
Was this back when Rob Malone was in the band?
Hood:
Yeah, Rob was in the band. God, this was before
Southern Rock Opera
came out. We'd been on the road, nonstop for '98, '99 and 2000, and at the end of 2000 we came home for Christmas and everybody got $50 Christmas money from all the dates on the road. And everybody just kind of went a little crazy. We all were just so angry, and everybody's wives were leaving us, and I ended up getting divorced again. Cooley and his wife hung in there, but everybody else pretty much broke up with whoever they were either dating or married to. You know, something like that, when you're all cooped up in a van, it's going to spill over. Someone's frustrated and they say something they probably don't mean, or maybe they do mean but they shouldn't say, and next thing you know, someone else says something, and we had this brawl [laughs]. It was the day before started mixing
Southern Rock Opera
and none of us were speaking. And we land in the studio and Barbe set us down and pretty much saved our band. Barbe was like, "Alright, you sit over there, you sit over there. If anyone has anything negative to say, go home and come back tomorrow. Sleep on it before you say it." Barbe kind of read us all the riot act and separately went to each person and let everyone talk it out to him because he's so level. He's a wise old owl. He's my role model, being a daddy. He's who I turn to when the shit goes down and I'm going, "What do I do? How do I operate this thing?!" So, anyway, I was really, really depressed, and I was writing all these songs—I referred to it as my
Heathens
project because that was the working title for what became
Decoration Day
, and there was a group of songs that were maybe just a little bit too personal, or too negative towards other people I was playing with, or just weren't band songs. I holed up in the dining room for about two days and recorded pretty much every new song I had, and I could listen back to it and go, 'That's a
Heathens
song, that's not. That is, that's not. So I took all the ones that weren't and burned a disc, and that was
Killers and Stars
. I never intended to release it, but the band decided to take six months off to try to mend our wounds and finish the record, and not be on the road while we were finishing the record so that we could come back new and revitalized. I went and lived in Baltimore for a month, and went different places and couch surfed pretty much. I couch surfed in Texas for a month.
Paste:
What brought you to Baltimore?
Hood:
I had a friend that let me couch surf there, and I booked a bunch of shows in that region and would just drive out each day from there and play. [In Texas], I stayed with a buddy of mine in Austin named John and a girl named Maryanne that I was friends with in Denton. She had her family's big house, and it was just her and her son living there so I had a whole wing I got to live in for about a month and it was great. I mean, it probably saved my life, 'cause I got to find my sanity a little bit, and it was during that Texas trip that I came up with the idea of finding investors to put out
Southern Rock Opera
'cause we didn't get a single offer from our SXSW performance and nobody wanted that record. So it was like, "Fuck it. I've come this far, I'm getting that motherfucker out—I've been working on this thing six years, and I've gotta save face. If I don't put it out, I'm just another loser that's been saying something for six years and didn't follow through, and
fuck that
." So we found investors and put it out and then hit the road again.
Killers and Stars
is just something I would burn copies and sell at my solo shows during that time, and then it went in a box and I kind of forgot about it. But people kept trading them and exchanging them and bootlegging them and writing me and asking for one. I'd usually just burn 'em one and mail it to 'em. And New West approached me in '04 when I was about to marry Rebecca, and they indicated they were interested in putting it out. So, fuck it, I sold it to them for enough money to bankroll my honeymoon, and we went to Paris. It wasn't much money, but it didn't cost much money [to make]. And it's like, "You know, I can start my new life. This is enough money for us just to get things off on a nice little foot." So we went to Amsterdam for four or five days and Paris for four or five days and came back pregnant and here we are. So it was a happy ending. But [
Killers and Stars
] is as different from
Murdering Oscar
as it could be, 'cause [
Murdering Oscar
is] a full-band record, and at that time I'd never really worked with a keyboard player. Having Scott from Centro-Matic play keyboards on it definitely paved the way for us having Jay in the band now and Spooner in the band last year.
Paste:
What are some of your favorite tracks on
Murdering Oscar
?
Hood:
I like the title cut, and "Pollyanna" which I think will probably be the single. [But] I might be too close to it to even pick. [The album is] pretty concise; it's like 45-minutes long. I really just like the back and forth of the points of view—I love dualities, and a little whiplash. And I cover a Todd Rundgren song on it ["The Range War"]. Before I made [the record], I referred to it as my Todd Rundgren project. My vision was to make this kind of attempt at a
Something/Anything?
kind of thing, but it's not at all. Even the Todd Rundgren song on there doesn't sound remotely like Todd Rundgren. But I've been a lifelong fan and he's been one of my favorites forever—or at least, the albums of his that I like are among my favorite records ever made, I'll put it that way.
Something/Anything?
is probably my all-time favorite record, and 90 percent of his catalog I can't listen to, but I love that record and I love a handful of songs off of other ones. So that was definitely an influence even if it doesn't really sound like it. My voice—I mean, I couldn't sing any less like him.
Paste:
Anything new going on with DBT right now?
Hood:
The band's started our next record. It's going good, we've cut 14 songs already.
Paste:
You working with Barbe again?
Hood:
Working with Barbe again, and Jay's in there with us full-time this time, and that's been a blast. Everybody's working real good together. Other than me being sick today, it's pretty good times right now.
Paste:
You talk a lot about how crazy things were eight or nine years ago—do you feel like you guys have figured out how to be on the road and still keep your sanity?
Hood:
I think so. The three-week rule is really important. We've, for the most part, honored that, with just a few exceptions, and any time we've had one of the exceptions it's a good reminder of why we have [the rule]. It's like, "three weeks is
enough
. It's time to go home." It starts wearing too much on the family and on us, and hell, I'm turning 45 in a few days. I think, if I can't get it done in three weeks and then take a couple weeks off and do it again… We played 168 shows last year, but we paced it well enough that we were only out longer than three weeks that one time with The Hold Steady, and that was four weeks, and that was
too
much. Although, it was great—that was a great way to end the year, and it's something we all agreed to. We knew going into it that we were up against Thanksgiving and the holidays and we wanted to do cross country with them, and that was the only way we could do it was if we did the extra week. But, no more [laughs].
Paste:
Do you think you'll ever tour with them again?
Hood:
I don't know. It'd be fun. I love 'em. I love the band and it was cool, but at the same time, we crossed the country. It'd be fun to play Texas, it'd be fun to play Europe with 'em. I think they're considerably bigger than us over there, and that might be cool if we just went and opened for 'em. At the same time, we're not a good opening act, you know? I mean, we do some arena stuff [with other bands]; we've got some of those kind of things coming up in the summer, and that's one thing. But as far as opening in a club that's just the next size bigger than what we could do on our own—our fans bitch about it, and we play better a little later at night, so I don't know. I don't know if it will happen or not. At the end of the tour, there was a lot of things said, you know, 'I'm gonna miss y'all! We gotta do this again!' But reality is, it was a big undertaking to put something like that together. It might be more fun to just do Europe for a couple weeks. I'd like to work on a project with [lead guitarist] Tad [Kubler]. It'd be fun to do some kind of recording project. He's starting to do some soundtrack work. He's a phenomenal musician, and it might be fun to do something with him. He and I really kind of clicked, so that might be cool.
Others Tagged With