Chip Kidd to Pen Batman Comic for DC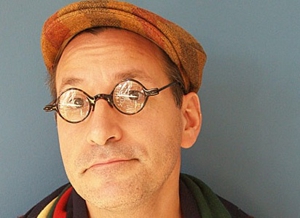 Graphic designer, novelist and comic-phile Chip Kidd has announced that he will write a full-length Batman comic for DC. The news came via Twitter (where else?) from one of the audience members at the Chicago Tribune Printers Row Lit Fest, who witnessed Kidd's announcement and promptly spread the good news throughout the nerd world.
Kidd, who has been hailed as "the closest thing to a graphic design rock star" by USA Today, is an associate art director at the Alfred A. Knopf publishing imprint. His designs have graced the covers of works by Cormac McCarthy, Michael Crichton, Augusten Burroughs, David Sedaris and John Updike. Kidd's work with books extends beyond the covers and into the pages as well. His first novel, The Cheese Monkeys, was a New York Times bestseller.
The designer's fascination with comics and, specifically, Batman, is no secret. One of his first books,
Batman Collected
, consisted of 500 photographs of relics from Kidd's Batman collection, including Batman cars, figurines, wall paper and more. Kidd then went on to co-author and design
Batman Animated
, a behind-the-scenes analysis of the infamous animated series. Now, Kidd is promoting his latest Caped Crusader-themed work,
Bat-Manga! The Secret History of Batman in Japan.
No more details have emerged, and the jury's still out over whether comic lovers are even more gleeful about Kidd's announcement than they were over
Chuck Palahniuk's news
.