Sufjan Stevens Song Winner Holding Listening Parties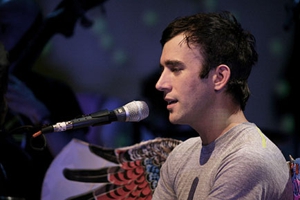 In November 2007, from the man that infused old carols with new whimsy via his annual Christmas EPs, came the challenge of The Great Sufjan Song Xmas Xchange. For this contest, Sufjan Stevens invited fans to submit their own homemade holiday songs, promising to exchange the rights to one of his own unreleased compositions for the rights of the winning track.
After shuffling through more than 600 submissions, Stevens
declared
fellow Brooklynite Alec Duffy the winner. He praised the simplicity of Duffy's "Every Day Is Christmas," saying it "feels, at once, like a classic show tune, the perfect parlor song, a lackadaisical bar ballad, and a church hymn," and is "unencumbered with the pejoratives and prophetic exclamations of Christmas, the most complicated of holidays."
Duffy, 33, now holds the exclusive rights to listen to and share Stevens' song, "The Lonely Man of Winter," and carries this honor with great care. To the chagrin of many Stevens fans who are waiting on the edge of their seats for new material from the once-prolific songwriter, Duffy refuses to leak the track to the Internet. Instead, he reserves the privilege for
private listening parties
that he holds in his Prospect Heights apartment. He invites friends and strangers to come to these sessions, where he plays the song from his computer or iPod and insists that his guests listen on headphones to prevent them from secretly recording the precious track.
Others Tagged With